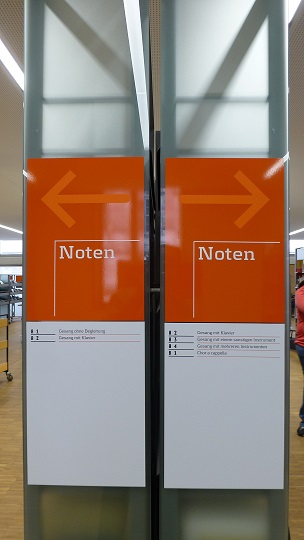 Photograph: Stadtbibliothek Nürnberg by Manfred Ullrich
The International Association of Music Libraries, Archives and Documentation Centres (IAML) currently has about 1,700 individual and institutional members in around 40 countries throughout the world. Founded in 1951 to promote international cooperation and to support the interests of the profession, IAML is a respected member of the international library and music communities. It has national branches in 24 countries, five institutional sections, four subject sections and various project groups, and is responsible for several large-scale documentation projects.
IAML draws most of its membership from Europe and North America. It is also well represented in Australia, New Zealand and Japan, with some members in other parts of Asia, in Latin America and Africa. Extending its coverage to these parts of the world is an important goal for the Association.
The membership comprises major music collections, music and audio-visual librarians, music archivists and documentation specialists, musicologists, music publishers and dealers. Membership is open to any person or institution interested in the work of the Association. English, French and German are the official languages.
IAML is a member of the International Federation of Library Associations and Institutions (IFLA (link is external)), the International Council on Archives (ICA (link is external)), European Bureau of Library, Information and Documentation Associations (EBLIDA (link is external)) and the International Music Council (IMC (link is external)), a UNESCO non-governmental organization. It maintains close ties with the International Association of Sound and Audiovisual Archives (IASA (link is external)) and the International Association of Music Information Centres (IAMIC (link is external)).
Through two Project Groups on the International Standard Bibliographic Description (ISBD), IAML has collaborated with IFLA on the revisions of the ISBDs for Non-Book Materials (NBM) and Printed Music (PM). IAML has also worked with the International Organization for Standardization (ISO) on the development of the International Standard Music Number (ISMN).