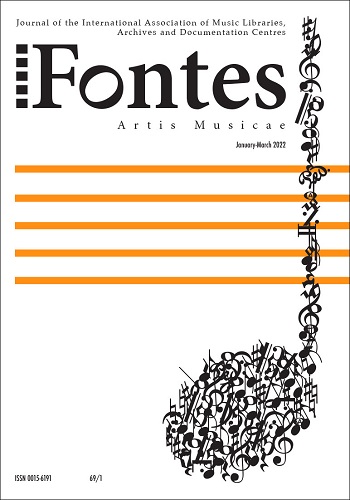 Fontes artis musicae, a quarterly, peer-reviewed journal, features articles relevant to the purposes of IAML, particularly in the area of international music librarianship and documentation, bibliography, audio-visual materials, and musicology. Fontes is a membership journal with the subscription cost included in membership dues. 
Please note that the mailing of paper copies of Fontes is currently delayed due to the Coronavirus situation. Please see more details here.

Fontes Editorial committee
Editor-in-chief:
James P. Cassaro
University of Pittsburgh
B-30 Music Bldg
Pittsburgh, Pennsylvania 15260  
USA
Tel: +1 412-624-4131
Assistant editor:
Rupert Ridgewell, PhD
Music Collections
The British Library
96 Euston Rd.
London
NW1 2DB
England
Book review editors:
Colin Coleman
Gerald Coke Handel Collection
The Foundling Museum
40 Brunswick Square
London WC1N
UK
Tel: +44 (0)20 7841 3615
Sandi-Jo Malmon
Librarian for Collection Development
Eda Kuhn Loeb Music Library
Harvard University
Cambridge, MA 02138
USA
Tel: +1 617-495-2794
Annual index:
Jennifer Vaughn (Radio Free Europe/Radio Liberty, Prague, Czech Republic)
Editorial board:
Joseph Hafner (Montreal, Canada)
Thomas Kalk (Stadtbüchereien Düsseldorf, Deutschland)
Daniel Paradis (Montreal, Canada)
Advertising manager:
Stephanie Bonjack (University of Colorado, Boulder, USA)
Fontes is published by A-R Editions.
Fontes artis musicae (Print)
ISSN 0015-6191
Fontes artis musicae (Online)
ISSN 2471-156X
This page was updated on: