The following has reached us from Lena Nettelbladt (Musik- och teaterbiblioteket, Stockholm, Sweden). It originally appeared on the Svenska musikbiblioteksföreningen blog and is reprinted with kind permission.
Musikforskare, musikbibliotekarier och musikarkivarier från organisationerna IAML och IMS träffades i New York den 21 – 26 juni 2015 för en konferens. Den höll till i Juilliard School nära Lincoln Center. Temat för konferensen var digitalisering "Music research in the digital age". Tack vare Anders Lönns resestipendium kunde jag få åka.
Anlände på söndagen till flygplatsen Newark i New Jersey och tog "shuttle bus" till studenthemmet där vi skulle bo. Det spartanska rummet låg i en skyskrapa alldeles bredvid Julliard School och vi bodde på 26:e våningen med en fantastisk utsikt.
Utsikt från studenthemmet våning 26
På kvällen var det invigning av konferensen med tal av IAMLs president Barbara Dobbs Mackenzie och av Jane Gottlieb från organisationskommittén. Vi fick småplocksmat och men ingen musik. 
Måndagens "Opening session" var mycket intressant med föresläsare från tre olika arkiv: Barbara Haws från New York Philharmonic Archive, Gino Francesconi från Carnegie Hall och Sharon Lehner från Brooklyn Academy of Music Hamm Archives. De berättade alla livfullt om digitalisering av noter och program. Klockan 11 fick jag hasta till en lokal som var mycket svår att hitta. Det var viktigt att jag inte kom för sent eftersom jag är sekreterare i The Broadcasting and Orchestra Libraries Branch som ordnade kommande session. Det vill säga det var ordförande Nienke De Boer från Nederländerna som hade förberett allt. Hon hade bjudit in Matthew Naughtin, musikbibliotekarie vid San Francisco Ballet och författare till boken Ballet music.Han höll en mycket intressant och lärorik presentation om sin vardag. Därefter ledde Nienke en paneldiskussion om arbetet med noter för balettmusik. Deltagare var Charles Barker och David LaMaarche som båda är dirigenter för American Ballet Theatre och Matthew Naughtin. Det blev en mycket givande stund och lyckligtvis var det många som letat sig fram till lokalen och publiken ställde flera frågor.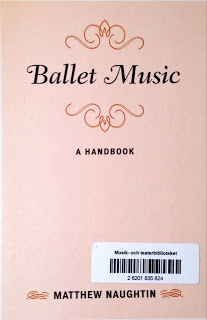 På eftermiddagen hade Nienke ordnat en Coffee Corner för Broadcasting and Orchestra Librarians och vi träffades i ett hörn vid hissarna. Nienke uppmanade alla att följa med på studiebesök till New York Philharmonic Orchestras arkiv. Orkestern New York Philharmonic Orchestra startade 1842 som en kooperativ orkester. Nu arbetar personalen med att digitalisera alla noter och program och andra handlingar från 1842 fram till 1970. De fotograferar 2000 sidor per dag. Det har tagit fem år att digitalisera 1 1/2 miljon sidor och det är ungefär hälften. De suddar aldrig ut markeringar som dirigenter har gjort.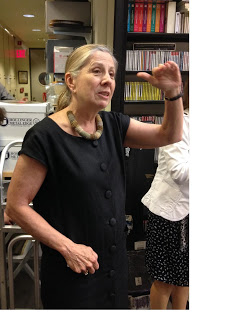 – Det är fascinerande vad partituren kan berätta! De är så fulla med information från olika tider, säger arkivarie Barbara Hawes.
Orkestern har alltid varit noga med sina noter. Regeln för musikerna var: du kan hoppa över en repetition, du kan till och med hoppa över en konsert men du får inte tappa bort dina noter. Andra gången du gör det åker du ut. Arkivet har fått 1200 partitur efter Leonard Bernstein. Han antecknade i noterna för sig själv med blå penna och med röd penna det som orkesterbibliotekarien skulle föra över till musikernas noter.

Arkivet har partituret från Beethovens symfoni nr 5 som orkestern använde vid sin första konsert 1842.
På bilden kan du se att två extra takter är strukna
Första dagen var verkligen  fullspäckad! Det var synd att jag missade Kia Hedell och Maria Schildts föredrag om Düben-samlingen. i Uppsala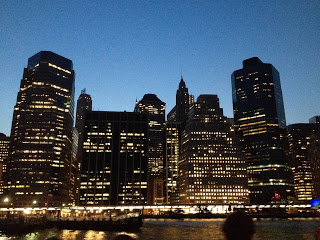 Måndagen avslutades med en båttur runt Manhattan för att fira att databasen RILM fyllde 50 år.

Tisdag: Det fanns varje dag parallella föredrag att lyssna på och jag valde att gå till den som handlade om musikuppslagsverk. Det var representanter från olika stora uppslagsverk som MGG (Musik in Gesichte und Gegenwart), Markus Bandur från Handwörterbuch der musikalischen Terminologie, Anna-Lise Santella från Grove Music Onlinemed flera som presenterade sitt arbete. Därefter lyssnade jag på en paneldebatt om IMSLP som är en användbar webbplats med digitaliserade noter. RIPM som är en databas för äldre musiktidskrifter, bjöd på mycket god lunch och presentation av nyheter. Snart kommer en ny fulltextdatabas med jazztidskrifter.
På eftermiddagen visade Bob Kosovsky oss runt i magasinen på sin arbetsplats New York Public Library for the Performing Arts. Det var mycket spännande! Han visade oss samlingen med material efter John Cage och en dosa med en grå hårlock från Beethovens huvud och mycket annat.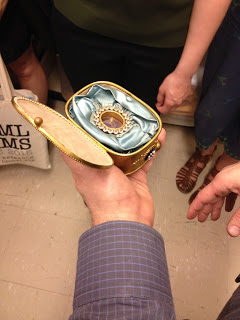 Beethovens hårlock
Vi bjöds en högklassig konsert på kvällen med musik från noter som finns i Juilliard Schools bibliotek och därefter mat och samvaro i biblioteket. 
Onsdag: Efter två programpunkter – Music research in the digital age och Small institutions, too, can play the digital game var det dags för lunchdejt. Kerstin Carpvik och jag är trevande RILM-medarbetare vilket betyder att vi för in nyutkommen svensk musiklitteratur i databasen Ibis som hör till RILM. Vår kontakt på RILM-kontoret är Lori Rothstein och det var väldigt roligt för oss att få träffa varandra på riktigt. Lori tog med oss på en trevlig och lugn lunchrestaurang och vi kunde prata igenom våra RILM-uppgifter.
Kerstin Carpvik, Musik- och teaterbiblioteket i Stockholm och Lori Rothstien från RILM i New York
Eftermiddagen var det utflyktsdags som det brukar vara varje onsdag under IAML-konferenserna. Vi hade valt att följa med på Harlem Heritage Gospel Walking Tour. Vi åkte tunnelbana till Harlem där vi såg utställningen Black life matters på Schomburg Center for Research in Black culture, en filial till New York Public Library. Utställningen visade journalfilmer från Selma-marscherna som Martin Luther King ordnade och även böcker och skivor. Guiden tog oss med på en promenad genom Harlem och han spelade jazzmusik för oss från sin iPad och bjöd oss på melon. Vi deltog i en gudstjänst i Abyssinian Baptist Church där vi fick lyssna på stark gospelmusik.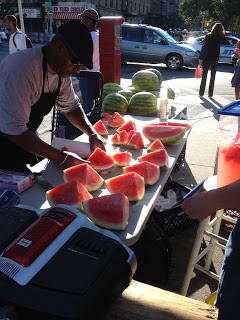 Vi bjöds på en svalkande melonbit under promenaden i Harlem
Torsdag: Under en presentation av databasen RISM, fick vi lära känna nyheter som en databas för vattenmärken, Mozartautografer i RISM och möjligheten att visa olika biblioteks digitala samlingar i RISM med hjälp av MEI, Music Encoding Initiative som berikar informationen till glädje för bibliotekarier, forskare och musiker. 
Kerstin och jag gick på "Business meeting" för RILM där olika länders representanter berättade om sitt arbete med RILM under det gångna året. Vi fick höra om nyheter med databasen Ibis2 som vi nu ska arbeta i och vi bjöds på lunch!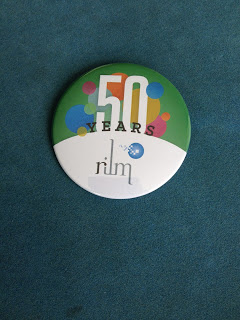 Knapp för stolta RILM-medarbetare
På kvällen fick vi höra John Francis och Seth Winner berätta om "Treasurers from the Rogers & Hammerstein Archives of Recorded Sound". Vi lyssnade på inspelad musik och fick se bilder. 
Fredag: Digitalisering var ordet som vi hörde på nästan varje föreläsning. Fredagen startade med Digitizing music resources: Librarians' and researchers' perspectives och först ut var Alexander Komarov från Glinka National Museum. Han berättade om projektet Tschaikovsky Open World som startade 2014. Hittills har de digitaliserat 463 manuskript som finns i 70 olika institutioner världen om. 
Sonia Archer-Capuzzo från University of North Carolina at Greensboro har digitaliserat och katalogiserat material efter cellisten Lev Aronson. Hon uppmanade oss att tänka som en forskare när vi katalogiserar och digitaliserar. Vad vill forskaren veta? Jo information om titel och kompositör, kompositionsår, information om när stycket har framförts, svårighetsgrad, besättning, röstläge, vilket omfång stycket har och tonart. Forskaren vill ha hela materialer digitaliserat. Lägg till så mycket information som möjligt. Om det inte står på noterna för vilket röstläge sången är så kan du genom att forska komma fram till vilken sångare som först framförde stycket och sedan skriva till exempel: troligen för tenor. 
Slutligen berättade Richard Sutcliffe från Koninklijk Conservatorium i Bryssel om digitalisering av äldre violinskolor. 
Fredagen avslutades med Closing session som leddes av IAMLs president Barbara Dobbs Mackenzie och IMS president Dinko Fabris. Det var rapporter och hedersomnämnanden och en presentations av IAMS kommande konferens i Stavanger och IAMLs kommande konferens i Rom. 
På kvällen åkte vi buss till Water's Edge på Long Island där farewell dinner severades. Det bästa var inte maten utan utsikten och att vi fick dansa till MLA Big Band!

Tack till Jane Gottlieb och alla andra som varit med och organiserat denna vecka i New York!
Vår lilla svenska delegation avslutade veckan med en brunch