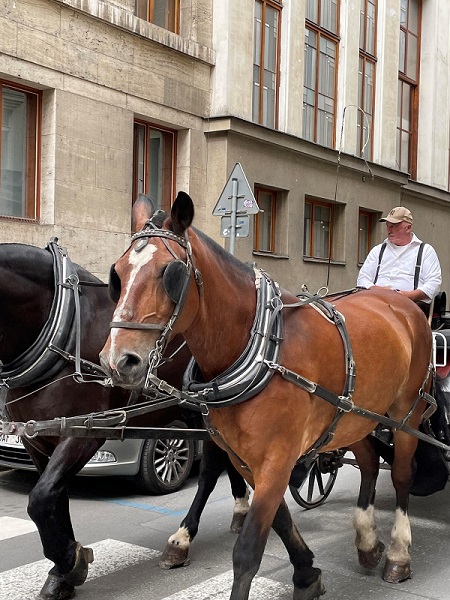 The following Congress Diary from Prague has reached us from John Wagstaff, UK:
Everyone happy to be face-to-face again – Acquaintances renewed, lots of new people to meet – Am I supposed to be at the Municipal Library or the National Library? (inevitably choosing the wrong one every time) – Grilled chicken salad (delicious) – The "Big 4" (Dvořák, Janáček, Martinů, Smetana – a masterclass in diacritics, and in stylistic heterogeneity) – The Forum of National Representatives (advice to a colleague: "always say something at meetings so you get your name in the Minutes") – Grilled chicken salad – Free transportation all week? Great idea! – I'm lost -- Exhibitors old and new – Barbara from RILM is retiring????? – Fine concerts in magnificent locations – Long hot evenings, sitting outside eating and chatting – Who is "Tony Courtyard"?* -- Yes, I'm lost again -- The Musical Instruments Museum (not on the programme, but still my best Prague memory) – Drinks and food at coffee break time that never seemed to run out – Archives, Advocacy, Academia and Access (four "A" projects…) – Why can't you just buy a portion of chips/fries in this town? OK then, I'll have the grilled chicken -- A new generation of engaged and lively library practitioners, eager to learn and who don't yet know about avoiding conversations with Wagstaff – Quiet, our President is saying something – Why don't we have many papers in French or German nowadays? (Où sont nos collègues d'antan?) – Oops, someone has COVID, that's a worry – Yes, I'm lost again -- Projects, projects, projects – How to get the best acoustics in Hall C? -- Farewell ceremony and concert (except I forgot to book…) – Some more people have COVID – Back to the airport, with new -things learned – A wonderful congress: congratulations and kudos to the Czech Branch.
----
* "Tony Courtyard" is a rather over-literal translation of Antonín Dvořák. Not something we learned during the Dvořák Museum visit on the Wednesday of Congress week.