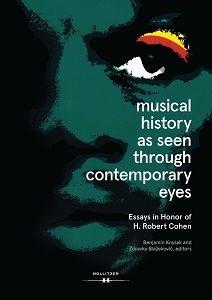 On 6 and 7 December, musicologists and ethnomusicologists gathered at the Palazzetto Bru Zane in Venice for a conference in honor of the founder of the Répertoire international de la presse musicale (RIPM), H. Robert Cohen, honorary member of IAML and the International Musicological Society (IMS). During the conference, jointly sponsored by RIPM, the ICTM Study Group on Iconography of the Performing Arts, and the Centre de musique romantique française, Venice, he was presented with a Festschrift: Musical History as Seen through Contemporary Eyes: Essays in Honor of H. Robert Cohen, ed. Benjamin Knysak and Zdravko Blažeković (Vienna: Hollitzer, 2021).
The following is an excerpt from Knysak's remarks at the presentation.
In 1968, to inaugurate the establishment of a new Ph.D. program at the City University of New York (CUNY), the chair of this foundling department, Barry S. Brook (1918–1997), invited fifteen distinguished scholars to give lectures on different aspects of the growing discipline of musicology. Providing the first lecture in this series was none other than Gustave Reese (1899–1977), Professor of Music at nearby New York University, founding member of the American Musicological Society, and a distinguished figure in the field. In the course of his lecture, Reese provides an overview of musicology in the late 1960s: its foundations, status and growth in American academia; divisions of the discipline; prominent specializations; and lacunae. Reflecting the postwar musicological focus on music of earlier eras, especially the 16th through the 18th centuries, Reese described the nineteenth century as a period requiring "an immense amount of work," summarizing it as a musicologically–"forgotten century."

However, one of Reese's students would take up this charge over the following five decades, bringing to scholarly attention a trove of nineteenth-century musical iconography, operatic staging manuals, Italian figurini, and above all, the vast musical press from the eighteenth through the twentieth centuries. In total, these contributions to the discipline as author, editor, and director comprise some 327 printed volumes, one journal, numerous articles, and four databases which contain nearly two million full text pages, more than a million annotated citations, and treat some six hundred music journals.

At the meeting of the International Association of Music Libraries, Archives, and Documentation Centres (IAML) in Leipzig, July 2018, Zdravko Blazekovic, Barbara Dobbs Mackenzie, and I held a little meeting about a particular figure, well-known in the musicological and library community, and an honorary member of IAML and the International Musicological Society both. This figure would celebrate a birthday in 2021. We collectively agreed that a celebration was in order. A celebration that would necessitate a publication. 

With the concurrence of Michael Hüttler and Hollitzer Verlag in Vienna, we began discussions with numerous friends, colleagues, and collaborators who wished to be a part of this celebratory volume. We collectively worked on this project, keeping it under wraps for nearly three years, a small feat given the well-connected world of musicology. The positive response was spectacular. It became a collaborative and joyful endeavor.

The result is Musical History as Seen through Contemporary Eyes: Essays in Honor of H. Robert Cohen, a collection of 25 essays organized around the topics which Robert has pursued over his career, namely: The Musical Press; Berlioz, Musical France, and Verdi; Music Iconography; popular musics, and the R-projects. The title references the importance of primary sources in Robert's research, allowing us as historians to experience history through the eyes of those who lived and experienced it. Most authors draw upon a range of sources, many of which naturally overlap. Contributions from representatives of each of the four R-projects are included, on topics germane to each R-project but in a way which intersects with Robert's own research interests. 
A table of contents can be viewed here. Copies of the Festschrift will be available in early 2022.