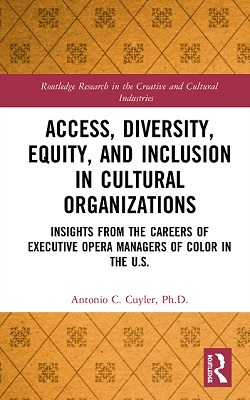 The 4,000th record has been added to the Recent Publications in Music database, an annual international bibliography of music publications curated by IAML.
With Access, diversity, equity, and inclusion in cultural organizations: insights from the careers of executive opera managers of color in the U.S. by Antonio C. Cuyler, we would like to draw your attention to this resource and invite you to contribute.
Recent Publications in Music contains citations to literature about music in print and other media, emphasizing reference materials and works of research interest. This is a collection development tool to help you discover new publications related to music.
A search filter is available for keyword, author, publication type, and year. You can search by country by clicking on hyperlinks on the country list here.
Our music librarian colleagues in 32 countries around the world are active Recent Publications in Music contributors. If your country is missing or needs a contributor, and you would like to offer to help, contact Joseph Hafner, the editor of Recent Publciations in Music.. 
If you have an individual title that is a book on music that you think other music librarians will want to know about but it is missing from the database, please feel free to send Joseph the citation! Maybe it is a book by you or colleagues at your institution, or something you recently purchased for your library that you think is a must for other libraries. 
For more information, see the Recent Publications in Music page.