The elections for President and four Vice Presidents of the IAML Board will be open from 15 May - 14 June 2023. This is one year late due to the COVID-19 Pandemic.
The deadline for nominations has passed.
Please note that only members of IAML are entitled to vote, i.e. members in arrears of payment by 1 May 2023 will not be able to vote, therefore it is more important than ever to pay your dues on time.
Nominees 
Nominees received as of 29 March 2023, listed in the order received.
President-elect nominees

Rupert Ridgewell, Dr.
The British Library, London, UK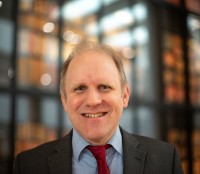 Following doctoral research in music at the University of London, I joined the music department of the British Library in the year 2000. As Lead Curator of Printed Music, I am responsible for a collection of some 1.6 million items of printed music, as well as the development of workflows to facilitate the acquisition of digital sheet music. Much of my work is concerned with improving access to our collections, through digitisation, collaborative projects with academics, and various forms of public engagement (e.g. exhibitions on Britten in 2013 and Beethoven in 2021-22). I am currently a Co-Investigator of the AHRC-funded project, Internet of Musical Events: Digital Scholarship, Community, and the Archiving of Performances.
 I have been fortunate to attend IAML conferences since Edinburgh in 2000 and have served in various capacities in that time, notably as Chair of the Working Group on Access to Performance Ephemera, Chair of the Bibliography Section, Assistant Editor of Fontes artis musicae, and Vice President (since 2016). I have also served on the Executive Committee of the UK and Ireland branch since 2001. Last year I was appointed to the RISM Commission Mixte as a IAML representative. Among other professional roles, I serve as a member of the International Advisory Committee of the musiconn project, the Editorial Board of the journal Eighteenth-Century Music, the Scientific Board of the Joseph Woelfl Gesellschaft, Bonn, and the Editorial Board of the Francesco Geminiani Opera Omnia. In 2019 I was elected to membership of the Akademie für Mozart-Forschung in Salzburg.
For a list of my publications, please click here.
Personal Statement
As a member of a multinational branch of IAML (UK and Ireland) and as a citizen of two countries (UK and Germany), I value enormously the unique spirit of international cooperation and fellowship fostered by our Association. In common with IAML members around the world, I am motivated by a passion for music and for promoting access to our collections and services to support education, performance, research and leisure. Since 2016 I have been privileged to work alongside wonderful colleagues and three inspirational Presidents on the IAML Board, fulfilling the role of Programme Officer and Chair of the Forum of Sections. This was a period of considerable change and development, from the implementation of a new organisational structure and the formulation of new strategic intentions, to navigating the immediate impact on IAML's activities of the Coronavirus pandemic – not least in organising our first online Congress, in 2021.
If elected President, I would like to ensure that IAML continues to evolve to meet the needs of our members and the wider profession as we address the challenges of the years ahead. IAML has always provided an invaluable forum for the exchange of knowledge and ideas, but the rapid acceleration in online communication technologies doubtless creates opportunities that we can exploit further. The annual Congress continues to be central to the Association's activities, but here too evolution is desirable in response to the changing environment, whether in the development of hybrid formats, further collaboration with related professional organisations, or fostering content to further support professional development. I am excited too by the opportunity to represent IAML as we deepen ties with our sister organisations, such as the IMS, IASA and the IMC, and to support advocacy for music in libraries, archives and documentation centres at an international level. As our profession comes under ever-increasing pressure from budget constraints and changing user needs, strong liaison with the national IAML branches remains as important as ever. I look forward to engaging with members worldwide, building on my experience as a member of the Board, to take forward IAML's mission in the years ahead.
Vice-President nominees

Anna Pensaert
Cambridge University Library & Pendlebury Library of Music, UK
Curriculum Vitae
After studying for an MA in musicology at Leuven University and the Technische Universität Berlin, I obtained a postgraduate qualification in Information and library science at Antwerp University. These degrees provided a strong foundation for my career as a music information professional.
My early career in Belgium at CeBeDeM and as Librarian at the Royal Flemish Conservatoire (1997) was followed by a move to Cambridge (UK) where I became Pendlebury Librarian at the Music Faculty of the University of Cambridge (2004). Since 2010 I have been Head of Music Collections at the Cambridge University Library Music Department and the Pendlebury Library of Music.
Providing the best possible user centred music library services has always been my priority. Professional activities, from curatorial to management, teaching and outreach, are undertaken in order to support teaching, research and performance. Both in Antwerp and Cambridge I served in musical organisations and committees focussed on promoting music performance and musical heritage.
My involvement in IAML has been core to my professional development. On an international level I first contributed as reviews editor (Europe) for Fontes. I have subsequently been Secretary and Chair of the Section for Service and training, member of the Membership committee and Chair of the Advocacy Committee.
I was elected as a Vice-President in 2019. My main role on the Board has been liaison with the Advocacy, Membership, Outreach and Development committees.

Personal statement
My term as Vice-President has largely coincided with the current pandemic. This initially created short-term challenges. We reached out to our members, liaised with other organizations and found ways of providing support online through early lockdowns and beyond.
There is now a clear call for IAML to reflect on how it can best support its members and the profession longer term in a changed environment. Although our profession has gradually been changing for many years, the exceptional circumstances we are currently living through have emphasised the need to be pro-active and take initiative to ensure we can support our members and develop the profession in a sustainable manner. We need to reach out to those for whom music is part rather than the whole of their job. It is equally important that we continue to do what we do well and recognise the value of IAML as a community and of its wealth and breadth of knowledge and experience. It is crucial to ensure that all we do takes equity, diversity and inclusion into account. 
I would very much value the opportunity of serving for a second term as a IAML Vice President in order to continue developing new ways forward.
Jürgen Diet
Bayerische Staatsbibliothek, Munich, Germany
Curriculum Vitae
Jürgen Diet is the deputy head of the music department in the Bavarian State Library in Munich where he is responsible among others for the musiconn-project (www.musiconn.de) and currently one of the four IAML vice-presidents. He manages the IAML forum of national representatives and is responsible for the yearly survey after the IAML congresses. Jürgen holds a Diploma degree from the University of Karlsruhe in Industrial Engineering and a Master degree in Computer Science from the University of Toronto. Before joining the Bavarian State Library in 2005 he worked for Siemens as a software engineer for 13 years. Jürgen has been the president of the German IAML-branch from 2012 until 2018. From 2013 until 2020 he has been the co-editor of "Forum Musikbibliothek", the journal of the German IAML-branch. In 2017 he has been elected as a board member of the German Music Council ("Deutscher Musikrat") for the period 2017 until 2021. From 2008 until 2014, Jürgen was the secretary of the IAML-section on "training and service". Since 2004 he is a lecturer at the Media University in Stuttgart and teaches the courses "Digital Music Libraries" and "Digital Music Archiving" in the Master program "Library and Information Management". He is member of RISM International and the RILM commission mixte. His extended CV including his publications can be found at http://bsb.bayern/cvdiet. Jürgen is married to his wonderful wife Violetta who extended and enriched his family considerably by bringing in her two daughters and her grandson. In his spare time, he likes to play cello in an amateur symphony orchestra and in several chamber music groups.
Please find a complete CV here: [CV] (PDF)
Personal statement
Since my transition to the world of music libraries 20 years ago I have been closely connected with IAML. I have participated in the German IAML conferences since 2003 and in the international IAML congresses since 2008 and would like to continue my work as member of the current IAML board. The highlight within the IAML year is certainly the IAML congress each summer. If I will be elected, then I would like to help to include exciting talks, panel discussions, poster presentations, and working meetings in the IAML congresses and to extend the congresses by suitable new event formats. Furthermore, I want to strengthen the communication amongst the IAML community also in the period between the congresses. Both my employer and my family are supporting my candidacy for IAML vice president.
Beruflicher Werdegang
Jürgen Diet ist der stellvertretende Leiter der Musikabteilung in der Bayerischen Staatsbibliothek, wo er u.a. für das musiconn-Projekt verantwortlich ist (www.musiconn.de). Derzeit ist er einer der vier IAML-Vizepräsidenten.  Er leitet das IAML forum of national representatives und ist verantwortlich für die jährliche Umfrage nach den IAML-Kongressen. Jürgen hat ein Diplom der Universität Karlsruhe im Fach Wirtschaftsingenieurwesen sowie einen Master-Abschluss der University of Toronto in Computer Science. Bevor er 2005 seine Tätigkeit in der Bayerischen Staatsbibliothek aufgenommen hat, arbeitete er 13 Jahre lang als Software-Ingenieur im Siemens-Konzern. Jürgen war von 2012 bis 2018 der Präsident der deutschen IAML-Ländergruppe. Von 2013 bis 2020 war er der Co-Schriftleiter der von IAML Deutschland herausgegebenen Zeitschrift "Forum Musikbibliothek". Im Jahr 2017 wurde er in das Präsidium des Deutschen Musikrates für die Wahlperiode 2017 bis 2021 gewählt. Jürgen war von 2008 bis 2014 der Sekretär der IAML-Sektion "training and service". Seit 2004 ist er Lehrbeauftragter an der Hochschule der Medien in Stuttgart und unterrichtet dort die Fächer "Digitale Musikbibliotheken" und "Digitale Musikarchivierung" im Master-Studiengang "Bibliotheks- und Informationsmanagement". Er ist Mitglied bei RISM International und in der RILM commission mixte.  Sein ausführlicher Lebenslauf einschließlich seiner Publikationsliste ist unter http://bsb.bayern/cvdiet zu finden. Jürgen ist mit seiner wunderbaren Frau Violetta verheiratet, die durch ihre beiden Töchter und ihren Enkel seine Familie erheblich vergrößert und bereichert hat. In seiner Freizeit spielt er gerne Cello in einem Amateur-Sinfonieorchester und in verschiedenen Kammermusik-Formationen.
Ein vollständiger CV ist hier zu finden [CV] (PDF)
Persönliche Erklärung
Seit meinem Wechsel in die Musikbibliothekswelt vor 20 Jahren bin ich eng mit IAML verbunden. Ich habe seit 2003 an den deutschen IAML-Tagungen und seit 2008 an den internationalen IAML-Kongressen teilgenommen und würde gerne meine Arbeit als Mitglied des derzeitigen IAML-Vorstandes fortzusetzen. Das Highlight im IAML-Jahr ist sicherlich der jeweilige Kongress im Sommer. Im Falle meiner Wahl würde ich gerne mit dafür sorgen, dass die IAML-Kongresse spannende Vorträge, Podiumsdiskussionen, Posterpräsentationen und Arbeitssitzungen enthalten und auch bei Bedarf neue Veranstaltungsformate ausprobiert werden. Weiterhin liegt mir die Kommunikation innerhalb der IAML-Community am Herzen, die nicht nur in der Kongresswoche, sondern während des gesamten Jahres gefördert werden sollte. Sowohl mein Arbeitgeber als auch meine Familie unterstützen meine Kandidatur zum IAML-Vizepräsidenten.
Stefan Engl
Wienbibliothek im Rathaus, Vienna, Austria
Curriculum Vitae
After doing an MA in musicology at the University of Vienna, I joined the Music Department of the Austrian National Library in 2004. There, I was mostly working on information retreival and cataloguing of personal legacies; previous projects included library training and guided tours. In 2020 I moved to the Music Department of the Vienna City Library, where I am responsible for all musical matters in the library.
Since 2011 I attended every IAML congress, and in 2013 I was the main coordinator of the congress in Vienna. I served on the board of the Austrian IAML branch from 2005-2015 as secretary; from 2015 until 2021 I have been its president. Since 2017 I am the chair of the bibliography section.
Personal Statement
Since my first IAML congress in Dublin in 2011, I was impressed by the friendliness and approachability with which I was received in this fine circle of music librarians. I made many new friends from all over the world, and there was a lot of fruitful information exchange and many a pleasant personal meeting in the time between the congresses. If elected, I'd want to actively and passionately work at furthering this unique and diverse network of the IAML family.
Curriculum Vitae
Nach dem Studium der Musikwissenschaften an der Universität Wien habe ich 2004 die Stelle eines wissenschaftlichen Bibliothekars in der Musiksammlung der Österreichischen Nationalbibliothek angetreten. Meine Aufgabenschwerpunkte umfassten die Aufarbeitung und Katalogisierung von Nachlässen, die wissenschaftliche Information und Kommunikation sowie die Planung und Abhaltung von Schulungen und Führungen. 2020 wechselte ich in die Musiksammlung der Wienbibliothek, wo ich mittlerweile für alle musikalischen Belange dieser Bibliothek zuständig bin.
Seit 2011 habe ich alle internationalen IAML Kongresse besucht und war 2013 hauptverantwortlich für die Organisation des Kongresses in Wien. Von 2005 bis 2015 war ich bei der IAML Austria als Sekretär tätig, von 2015 bis 2021 als deren Präsident. Seit 2017 bin ich bei der IAML International Chair der Bibliography Section.
Persönliche Erklärung
Seit meinem ersten Besuch eines internationalen IAML-Kongresses 2011 in Dublin war ich beeindruckt von der Freundlichkeit und Offenheit mit der ich in diese bunte Runde von MusikbibliothekarInnen aufgenommen wurde. Ich habe dadurch Freunde gewonnen und viele Kontakte knüpfen können, sodass es auch in der langen Zeit zwischen den Kongressen zu gegenseitigem Informationsaustausch, aber auch schönen, persönlichen Treffen gekommen ist. Falls ich Teil des IAML Board werden sollte, wäre es mir eine Freude an der weiteren Vernetzung und Gestaltung dieser vielseitigen IAML-Familie aktiv mitzuwirken.
Janneka Guise
University of Toronto, Canada
Curriculum Vitae
Experience (selections)
University of Toronto, ON | Director, Music Library (2017 – present)

Promotion to Librarian IV rank (December 2022)
One-year sabbatical approved (July 1, 2023-June 30, 2024): to research and write the history of CAML

University of Manitoba, Winnipeg, MB | Head, Eckhardt-Gramatté Music Library (2007-2017)
Service
IAML
Chair, Outreach Committee (2021-2024)
Congress Travel Awards Committee (2021-2024)
Development Committee (2019- present)
Advocacy Liaison for Canada (2017-2020)
Strategy Committee (2011-2014)
CAML (selections)
Co-Lead Editor, CAML Review (2020- )
CAML Renewal Task Force (2019-2021)
Helmut Kallmann Award Committee (2017)
Audit Committee (2015-2017)
President Elect – President - Past President, CAML Board (2010-2014)
Membership Secretary, CAML Board (2007-2010)
ONTARIO LIBRARY ASSOCIATION (selections)
Treasurer, OLA Board (2019-2022)
With Director of Operations, successfully managed $3 million budget for the 5,000-member organization during 2 years of COVID-19 pandemic budget shortfalls and uncertainties
Chair, Audit Committee (2019-2022)
Chair, Finance Committee (2019-2022)
Personal Statement
Since 1999 I have worked in academic libraries, including the past 15 years in music libraries. I spent 10 years as the head of the Eckhardt-Gramatté Music Library (University of Manitoba, Canada), and in 2017 it was my privilege to assume the position of Head of University of Toronto Music Library, the largest music research collection in Canada.
I have been a IAML member since 2007, and attended IAML congresses in Dublin (2011), Montreal (2012), Leipzig (2018), and Krakow (2019). I currently Chair the IAML Outreach Committee, and sit on several other IAML committees. I served on the Board of the Canadian Branch (CAML) from 2007-2011 as Membership Secretary, from 2011-2014 as President Elect, President, and Past President, and in 2020-2021 I was pleased to be part of CAML's Strategic Directions Task Force. It was my great pleasure to serve as CAML president the year Canada welcomed the world to the IAML 2012 congress in Montreal. Since 2020 I have also served as co-Lead Editor of CAML's peer-reviewed journal CAML Review.
Throughout my career I have had a strong commitment to professional service. Having lived and worked in many regions of North America, I have found service opportunities extremely helpful in getting to know the professional landscape, expanding my network, and finding collaborators. From 2018-2021 I joined the Board of our provincial library association as its Treasurer, overseeing a CAD 3 million budget for this 5,000-member association.
While my first language is English, I am functionally bilingual in French, and (since Leipzig 2018) I have been studying German at the B1 level. I would be pleased to use my skills and experience in service to IAML and the Board, in particular with fundraising and donor relations, planning, assessment, and relationship building. In July 2023 I will begin a 1-year research leave from my institution, to research and write the history of CAML.
Marilyn Portman
Auckland Libraries, New Zealand
Curriculum vitae
After completing my music degree at University of Canterbury (NZ) in 1985, I began my library career at Auckland Libraries in 1986. I discovered the music collection there and took up a position in the Literature, Arts and Music department. In 1998 I was appointed Music Librarian. During my time in this role, I established our Thursday Concert series giving both amateur and professional musicians a platform to perform, sought to build a regional NZ Music Month programme of musical performances and activities region wide, and created a rich music resource for the music community.
In 2017, my role was shifted into the Heritage team as music specialist, and since then, into an engagement role. The engagement part of my role involves liaising with donors, and acquiring for and taking care of, our Heritage music collections. I also have responsibilities for purchasing and assessing the lending music collection at the Central Library and, on a regional level, with smaller music collections at our community libraries. The role touches virtually every aspect of the library service from operations, unique experiences, documentary heritage, heritage engagement, collection management, and content and access.
I have served on the NZ Branch of IAML since 2000 as committee member, filling the Secretary role 2004 – 2007 and later as President of IAML(NZ) from 2012 – 2015. I have published in our journal Crescendo and served a short stint as Editor from 2009 – 2013, which was a great experience. I have also been the NZ RILM committee submitting abstracts for new NZ monograph publications since 1999.
I attended my first international IAML Congress in 1999 at Wellington, New Zealand. Since then, I have attended Congress in Berkley L.A (2002), Sydney, (2007), Naples (2008), Montreal (2012), Vienna (2013) – where I presented a paper on NZ Music Month programming in libraries – and Leipzig (2018).
Personal statement
To be nominated to represent public Libraries on the IAML Board is a real honour for me. I am passionate about music in public libraries as it ensures accessibility of music for al, empowers the music community, and also fosters lifelong learning.  If I was elected for the IAML Board, I would seek to represent and advocate for music collections in public libraries around the world. My long experience in public libraries (37 years) has given me an understanding of the immense challenges both within the political forum (having to justify one's existence) and practically having to deal with a unique format that never seems to fit the mould – there always seems to be exceptions to the norm with music!   As an organisation, I have always found IAML to be an inspiration and a wonderful vehicle for professional development and gaining a wider perspective on music librarianship. What a privilege it is to network with music librarians from around the world and to have the opportunity to establish valuable professional connections and lasting friendships. It would be an honour to serve on the IAML Board.
Federica Riva
Conservatorio di musica di stato "Antonio Scontrino", Trapani, Italy (2021-)
Curriculum Vitae
Academic training: degree in Musicology at the Università degli studi di Pavia (Cremona) 1987; Studies in Library and Information Science, a joint Master degree of the University of Newcastle, UK and of the Università
degli studi di Parma.
Professional training as printed music cataloguer at the Library of the Conservatorio di musica 'Giuseppe Verdi', Milan (1988-1990)
Music Librarian, in Italian historic conservatories of music (Palermo, 1993-94; Parma;  Florence, 2010-2015) and in the more recent ones (Campobasso, 1991-93; Trapani, 2021 -).
Curator of the nineteenth century museum collections of the Conservatorio di musica 'Arrigo Boito', Parma – including the Arturo Toscanini's and Arrigo Boito's personal studies -
as well as of the historic institutional archive and of the sound archive (1994-2010, 2015-2020).
Teacher at courses for undergraduated and graduated music students: music bibliography, law and copyright (2005-2006 ongoing).
Liason ICCU (SBN) – IAML-Italia to develop music projects as the ICCU-RISM agreement, based also on her previous studies (2016).
Arrigo Boito online project: 5,000 Boito's autographs digitized in Parma (2018-2020)
Musicological research: member of the editorial board of the complete works of Arrigo Boito (2021-); coordinator of research activities at the Conservatorio 'Antonio Scontrino' in Trapani (2022-)
Service IAML
Vice-President 2001-2004 ; 2004-2007
Chair, Libraries in Music Teaching Institutions Section (at the time: Branch) (1996-1999; 1999-2002) see Networking and access to music collections (1998)
Chair, Copyright Committee (2003-2008), see National copyright survey / droit d'auteur in music Libraries (2008)
Secretary, Archives and Music Documentation Centres Section (2011-2014)
IAML-RIdIM liason (2017- )
Member, organizing committee IAML conference Perugia 1996, IAML congress Rome 2016.
IAML-Italia
Co-Founder of the Italian Branch of IAML, 1994
President (2009-2012; 2012-2015)
Vice President (2003-2006)
Treasurer (1994-1997; 1997-2000; 2006-2009)
Personal statement
 The IAML that I have loved since the Oxford conference (1987) looks to the future also by learning from the past, always renewing the delicate balance among the aspects that music librarianship deals with: historic heritage and big data, digital objects and physical documents; southern and northern cultures; international research projects; standards and guidelines. IAML connects also music libraries to archives and museums and related associations such as IFLA, ICA, ICOM.
I rely on music librarianship as an inclusive discipline, whose empowerment in the society is based on the dialogue among IAML members. Any new or experienced music librarian should have the opportunity to develop and share in IAML his professional and human experiences.
IAML represents individual members, their institutions and their countries, as each IAML national branch reflects the values of the Society to which it belongs. Two surveys done in the past (see curriculum vitae) on networking in cataloguing, 1998 and the first survey on copyright issues related to music libraries, 2008 prove how members and branches may be involved in building a IAML view.
Activities of Libraries in Music Teaching Institutions are essential to improve scholarly and artistic research among musicians. A task that music librarians are called to pursue - working together with the 4 R projects and international associations as IMS and AEC - is to help music students to develop their talent as performers, researchers and peaceful citizens. It would be a great honour for me to serve IAML as a Board member again to pursue this vision.
Teresa Delgado

Biblioteca Nacional de España, Madrid, Spain
Brief Curriculum Vitae
I have been a member of the Senior Corps of Librarians of the Spanish Ministry of Culture since 2018, and before that I was a member of the Technical Corps of Librarians in 2007. I have also held the following positions as a civil servant: technical librarian at the University of Castilla-La Mancha from 2001 to 2006, technical librarian at the Retiro Public Library "Elena Fortún" (Madrid) in 2006 and at the National Museum of Decorative Arts (Madrid) in 2007.  I am head of the Scores Service of the Music and Audiovisual Department, and previously head of the Early Music Section, both at the National Library of Spain. 
I coordinated all the processes of digitisation of music documentation on paper (scores, treatises, personal archives, choir books...) and I have worked intensively on the visualisation of our subject throughout Spain, and in the rest of the world through the Hispanic Digital Library.  I presented this joint project at the IAML congress in Rome in 2016. Professor of the Master's Degree in Music Documentation Management at the Universidad Autónoma de Madrid in 2013 and currently professor in the Diploma of Musical Archives at the Alberto Hurtado University in Chile. 
In recent years I have participated as a trainer in various conferences, specialisation courses, in management and technical process of music documentation, and I have published scientific articles in various specialised journals; also I coordinated the development of the "RDA application profile of notated music in the National Library of Spain".  
I am part of the papers selection committee of the Digital Libraries for Musicology Conference and since 2019  president of the Board of the Spanish Association of Music Documentation (AEDOM), where previously served as vice-president.  Since November 2022,  chair of the new Online Events Committee of IAML, and previosly at the two IAML online congresses (2020 and 2021) coordinated two meetings with Ibero-American professionals to give visibility to Spanish-speaking professionals and centres, the second in collaboration with the AEDOM Sound Archives Commission. 
Currently secretary on the board of FESABID (Spanish Federation of Archival, Library, Documentation and Museum Associations).  I participate in its Intellectual Property Working Group and collaborate in a research project at the University of Alicante with engineers -David Rizo and Jorge Calvo- on optical character recognition using artificial intelligence in mensural notation. 
Personal Statement

I firmly believe in professional associationism as a way to improve the work of people working in music documentation. Since I joined AEDOM (IAML/Spain) in 2010 I found a group of generous professionals eager to strengthen and add value to our musical heritage and institutions. Since then, we have witnessed our collections being visualised online, reused and gradually linking data... more and more.
It is a key moment for the profession, librarians, archivists and music documentalists must visualise our work and move forward in collaboration with other professionals in the sector and other associations (IMS, IASA, MOLA). Nowadays, hybrid formats and online meetings allow professionals who have had difficulty accessing associations to enjoy them in online formats, and to move forward in a worldwide professional union. The union and the work of the whole IAML family will allow other regions to join this family, giving a voice to all regions and professional profiles in all types of typologies: libraries, archives, conservatories, documentation centres, orchestras, private and academic institutions... joining efforts and activating a communication policy with private entities and companies.
The IAML congresses are also a point of reference and welcome that open our minds to other environments, projects and realities. That is why I would like to contribute my experience in my country and collaborate in whatever is appropriate in the future.
 Our keyword is Advocacy, the objective is to achieve a better positioning in order to act as a reference agent in the sector.
This page was updated on: