We have received the following from Karen McAulay (IAML UK & Ireland). See also the IAML UK & Ireland blog.
Locating performance materials is a major challenge for many orchestras and choirs.  IAML(UK & Ireland) has taken a major step forward in helping such groups, with the launch of the refreshed Encore21 service.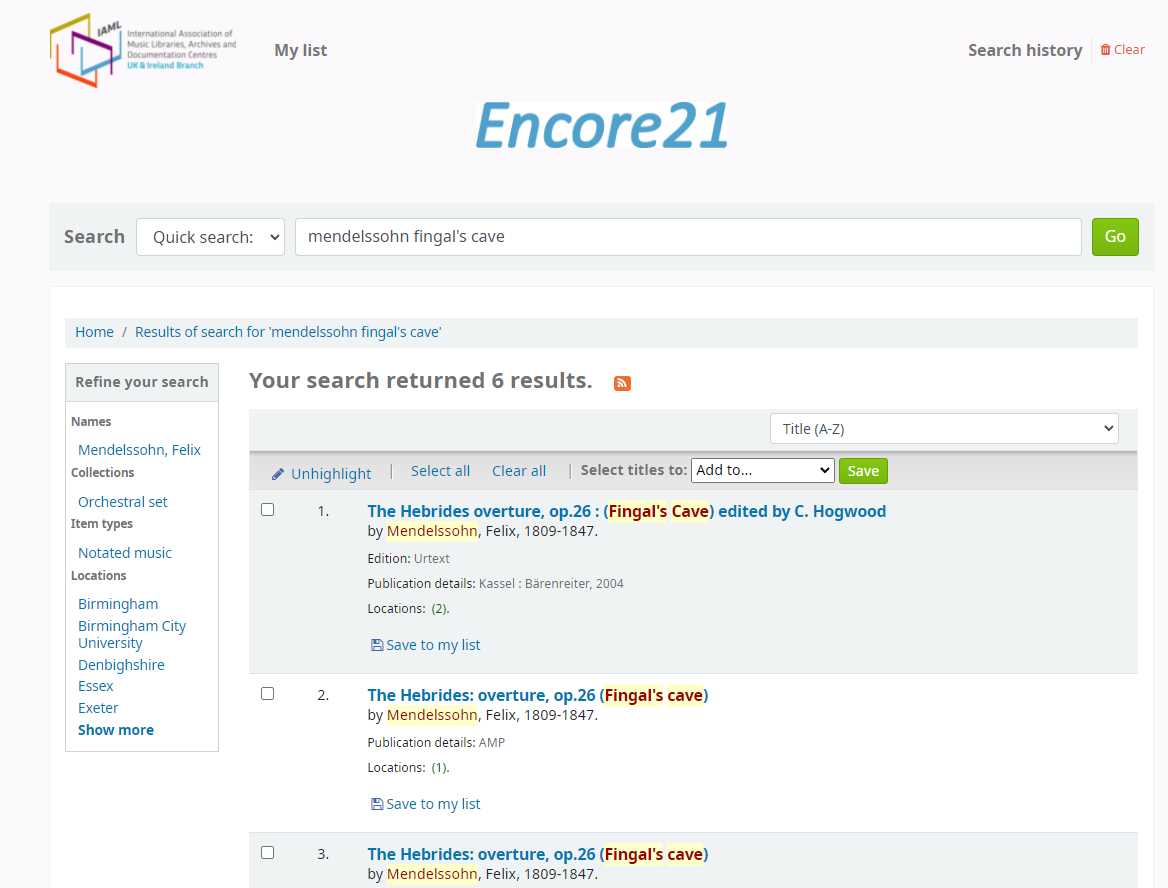 The system is live in a read-only version from 19 October, and available for editing by logged in users from 25 October.
Encore21 (https://encore21.info/) contains information about the library locations of about 92,844 borrowable sets of orchestral and vocal music. The catalogue data is in MARC21, the international library record exchange format. There are 102 participating libraries, of which approximately two thirds are public libraries. The catalogue is used typically by libraries seeking to borrow material from other libraries using the well-established inter-library loan service (ILL), as well as by musical groups such as choirs, orchestras and bands.
Encore is a locating service, but not a booking system, so an individual searching Encore and finding a set they would like to borrow, should note its details and apply to their local library service to request the set through inter-library loan. 
Real time availability information was out of scope for the current project. However, we are confident that on its new platform, and with strong technical and administrative support, Encore is well prepared to play its part in any future collaborations and developments in this direction.
More about Encore21
The Encore21 catalogue has migrated to a Koha system, implemented and hosted by PTFS Europe. Koha is an open-source library management system, developed initially in New Zealand. Koha is also used by several specialist music conservatoires. 
IAML (UK & Ireland) acknowledges with warm thanks the prior free-of-charge hosting of the Encore21 catalogue since 1985, by Bibliotekenes IT Senter (BIBITS) of Oslo, Norway, and Mikromarc UK Ltd.
Forthcoming
Look out for a training video for end-users, available on YouTube. There will be an updated training manual; and an online training session for Encore cataloguers and editors.
To request log-in details, or for any other queries about the system, please contact encore21-info@iaml-uk-irl.org.
More about IAML (UK & Ireland)
IAML (UK & Ireland) is the UK Branch of the International Association of Music Libraries, with members working in public, academic and national libraries, or perhaps considering a career in music librarianship – or simply sharing the aspirations of the organisation to support music provision nationwide, whilst also benefiting from the networking and shared knowledge of our international parent organisation.