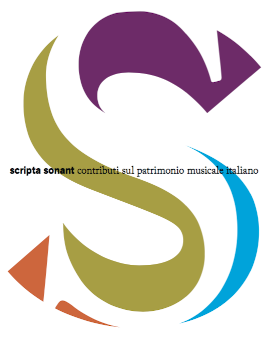 Scripta Sonant: Contributi sul patrimonio musicale italiano from IAML Italia is now available for free online.

Dedicated to Fiorella Pomponi, the volume contains essays on Italian musical heritage presented at the IAML International Congress, Rome 2016.
The volume can be downloaded online here. Printed volumes can be obtained from segretario@iamlitalia.it.
Scripta Sonant contains essays by Patrizia Martini, Massimo Gentili-Tedeschi, Marzia Piccininno, Elisa Sciotti, Manuela Di Donato, Maria Teresa Natale, Elena Zomparelli, Pierluigi Ledda, Annalisa Bini, Andrea Malvano, Luisa Maria Zanoncelli, Angela Carone, Agostina Zecca Laterza, Valeria Luti, Patrizia Florio, Donatella Melini, Maria Borghesi, Elvidio Surian, Annarita Colturato, Anna Claut, Giulia Giovani, Antonio Caroccia, Sarah M. Iacono, Paolo Sullo, Ilaria Grippaudo, Roland Pfeiffer, Maria Teresa Dellaborra, Stefania Gitto, Marina Schieke-Gordienko, Nicola Lucarelli, Federica Biancheri, Rosa Perrotta, Giovanni Vacca, Consuelo Giglio, Maria Rolfo, Monica Boni, and Annalisa Capristo.

Special thanks to Patrizia Florio.