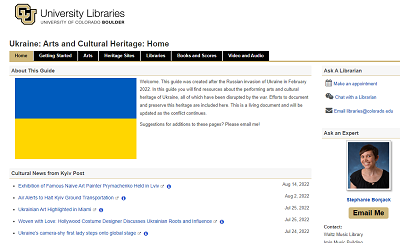 I would like to share with you this research guide I put together on Ukrainian arts and cultural heritage. I created it as a supplement to the Ukraine guides out there on history of the conflict and the politics of the region.

This guide was created after the Russian invasion of Ukraine in February 2022. In this guide you will find resources about the performing arts and cultural heritage of Ukraine, all of which have been disrupted by the war. Efforts to document and preserve this heritage are included here. This is a living document and will be updated as the conflict continues.
Suggestions for additions to these pages? Please email me!
Visit the LibGuide: https://libguides.colorado.edu/ukraine