John Lazos shares his reflections of the MLA conference in Orlando, Florida. Spanish follows.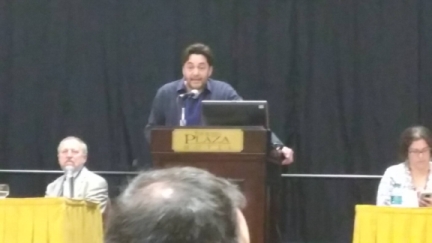 Between February 23rd and 26th the Music Library Association (MLA) annual conference took place in Orlando, Florida. It was quite a success, particularly because they included and generously invited the Latin American and the Canadian colleagues. This was the first time that a Pan American meeting was ever held.                                                      
The session titled "Cataloguing and Promoting Music Special Collections in Latin America" opened with Yael Bitrán Goren (director of CENIDIM from Mexico) presenting music collections pertaining to her research center. One of them, the Sánchez Garza Collection, purchased years ago, thanks to Robert Stevenson's advice, has recently been catalogued by a team of four researchers (Aurelio Tello, Omar Morales, Bárbara Pérez and Nelson Hurtado), and is soon to be published. André Guerra (Universidade Federal Fluminense Polo Rio das Ostras, Brazil) talked about Brazil's music heritage, especially Curt Lange's legacy, which comprises correspondence, scores, books, newspapers, diaries and magazines. Of note is Lange's first item, a body of correspondence of more than 58,000 letters. Beatriz Magalhães Castro (Universidade de Brasilia, Brazil) shared with us about Brazilian musical patrimony. She said that it has been divided into different regions to better understand this large country. Not an easy task, as there are always issues on specialized practice versus collections, public versus private, internationalisation versus adopting standards and cataloguing as a legal prerogative versus musicology.
The second session had numerous participants. Flávia Camargo Toni (Universidade de São Paulo, Brazil) mentioned the issues and challenges at her institution. Founded in 1962, the Institute for Brazilian Studies (IEB) focuses on everything related to research and integration among the humanities. The library, besides being considered one of the most complete Brazilian archives in the world, has just received 70,000 books collected by Manoel Correia de Andrade, specialized in the culture and history of people from the northeast of the country. From Argentina, Hernán Gabriel Vázquez (Instituto Nacional de Musicología "Carlos Vega" and Universidad Nacional de Rosario Instituto Nacional de Musicología "Carlos Vega") talked about the specific functions of his institute, which is to promote musical research and its aim is to study the variety of music created and performed in Argentina and other Latin American countries. There are three sections: Archives, Musical Instruments Museum and Sound Library. The young Yohana Ortega Hernández (Head of the Archives and Library Odilio Urfé of the National Museum of Music in Cuba) is in charge of an institution which aims at compiling, studying and disseminating Cuban music heritage. This museum, created in 1949, is the most important institution in the country and since 2004 has had a program that includes organizing, financing, and cultural actions aimed at safeguarding and recovering masterpieces of Cuban tangible cultural heritage as well as cultural properties treasured either in the museum, other cultural institutions or private collections. For her second presentation, Yael Bitrán addressed how her institute has given priority on the digitization of its collections. In the last two years, they have included the José F. Vásquez Archive (completed), the Gerónimo Baqueiro Fóster Archive Photographic Collection (completed), the Zevallos-Paniagua Collection (completed), the Esperanza Pulido Archive (begun), the Raúl Hellmer Fund (advanced) and the Henrietta Yurchenco Fund (completed). Currently, the collections Hiram Dordelly and Monographs are being digitized. Yoanna Lizett Diaz Vázquez (Research Center in Musical and Performing Arts of the Salto Headquarters, University of the Republic, Uruguay) shared with us her concern on rescuing the musical heritage in her country. The Center of Documentation, Research and Dissemination of the Performing Arts (CIDDAE) was created in 2004 when the Solís Theater in Montevideo was reopened. Located in the theatre's building, this center contains documents produced by the theater over time and obtained from private donations: hand programs, posters, handwritten and printed scores, pictures, books of proceedings of the Board of Directors, bordereaux, sketches, press articles, scenic models.
The session "Mas vale pájaro en mano que cien volando = A bird in the hand is worth two in the bush: the challenges of providing access to diverse Latin American collections" was concerned with the research, organization and sharing of music manuscripts and collections. Klaus Keil (Director of Répertoire International des Sources Musicales) reminded everyone how RISM has been cataloguing music sources for over sixty years. Their database, open for public consultation, has over one million records mostly from Europe. Fortunately, in the last few years RISM has been interested in other music traditions. Slowly, but steadily, there are nowadays over 1,200 records from various Latin American countries. The idea is to increase contacts and share the music housed in this area. John G. Lazos (independent researcher from Canada-Mexico) talked about the complicated situation of music cataloguing in Mexico and the particular case of José Antonio Gómez y Olguín (1805-1876). Gómez's Catalogue, recently finished and on-line for public consultation, compiles over 140 music works housed at seven different religious and sacred archives. This is the first time we have the music corpus of any significant Mexican musician from this period. Finally, Emma Dederick (Associate Librarian at Indiana University) presented on the "Crossroads of AMERICA(S): a road map to musical discovery" which she explained is based on the need to compiled all the music collections from the US and beyond. This work-in-progress has already enlisted the most important collections pertaining to universities and libraries all over the world. This current project is looking for more contributions.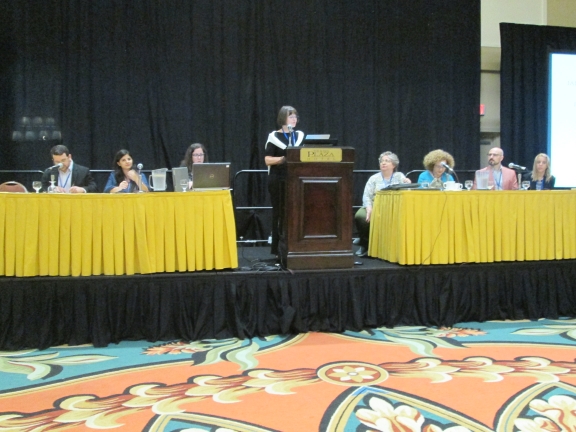 Spanish version
Entre el 23 y 26 de tuvo lugar el congreso anual del Music Library Association (MLA) en la ciudad de Orlando, Florida. Fue un gran éxito. En particular, por la inclusión y generosidad de invitarnos a los colegas de Latinoamérica y del Canadá. Esta fue el primero congreso Pan Americano que se ha organizado.
La sesión titulada "Catalogando y promoviendo las colecciones especiales de Latino América" abrió con Yael Bitrán (directora del CENIDIM en México) presento sobre las colecciones que pertenecen a su centro de investigación. Una de ellas, la Sánchez Garza, comprada años atrás gracias a la recomendación de Robert Stevenson, ha sido recientemente catalogada por un equipo de cuatro investigadores (Aurelio Tello, Omar Morales, Bárbara Pérez y Nelson Hurtado), y que está próxima a publicarse. André Guerra  (Universidade Federal Fluminense Polo Rio das Ostras, Brazil) habló sobre el legado musical de Brasil y en particular sobre el legado de Curt Lange, el cual contiene correspondencia, partituras, libros, periódicos, diarios y revistas. De notar dentro en Lange es el primer rubro, su correspondencia de más de 58 mil cartas. Beatriz Magalhães Castro (Universidade de Brasilia, Brazil) compartió con nosotros sobre el Patrimonio musical de Brasil. Ella dijo que para el mejor entendimiento de este gran país, se ha decidido dividirlo en cuatro regiones. Nada es una empresa fácil, ya que siempre hay que lidiar con práctica especializada versus colecciones, público versus privado, internacionalización versus adoptando estándares y catalogando como una prerrogativa legal versus musicología.
La segunda sesión tuvo varios participantes. Flávia Camargo Toni (Universidade de São Paulo, Brazil) mencionó sobre la situación y los retos de su instituto. Fundado en 1962, el Instituto de Estudios Brasileños (IEB) se ha centrado en todo lo relacionado con la investigación e integración entre las humanidades. Su biblioteca, además de ser considerada una de las más completas en Brasil como archivo en el mundo, recientemente recibió 70,000 libros de la colección Manoel Correia de Angrade, especializado en la cultura e historia del pueblo del noreste del país. De Argentina, Gabriel Vázquez (Instituto Nacional de Musicología "Carlos Vega" and Universidad Nacional de Rosario Instituto Nacional de Musicología "Carlos Vega") habló de las funciones específicas de su instituto, el cual promueve investigación musical y cuyo objetivo es estudiar la variedad musical creada e interpretada en Argentina como en otros países Latino Americanos. Hay tres secciones: el Archivo, el Museo de Instrumentos Musicales y la Biblioteca Sonora. La joven Yohana Ortega Hernández (Jefa del Archivo y Biblioteca Odilio Urfé del Museo Nacional de Música en Cuba) está a cargo de un instituto que se concentra en compilar, estudiar y difundir la herencia musical cubana. El Museo, creado en 1949, es el instituto más importante en el país y desde 2004 ha tenido un programa que incluye la organización, financiamiento, y las actividades culturales que buscan salvaguardar y recobrar obras maestras de la herencia tangible de Cuba como de otros proyectos que resguarda el Museo, y otras instituciones culturales o colecciones privadas. Durante su segunda intervención, Yael Bitrán recalco como su instituto ha dado prioridad a la digitalización de sus colecciones. En lo últimos dos años, estos han incluidos el José F. Vásquez Archive (completo), la Colección del Archivo Fotográfico Gerónimo Baqueiro Fóster (completo), la Colección Zevallos-Paniagua (completo), el Archivo Esperanza Pulido Archive (iniciado), y la Fundación Raúl Hellmer (avanzado) y la Fundacion Henrietta Yurchenco Fund (completo). Actualmente, las colecciones Hiram Dordelly y las monografías han sido digitalizadas. Yoanna Lizett Díaz Vázquez (Centro de Investigación Musical y Centro de las Artes de Salto, Universidad de la República de Uruguay) compartió con nosotros su preocupación en el rescate del legado musical de su país. El Centro de Documentación, Investigación y Diseminación de las Artes Interpretativas, creada en 2004 cuando el Teatro Solís de Montevideo volvió a abrir sus puertas. Localizado en el edificio del Teatro, el centro contiene documentos producidos por el mismo Teatro en sus actividades como de donaciones privadas: programas y carteles escritos a mano, partituras impresas, libros de fotos que proceden del Comité de Directores Bordereaux Sketches Press artículos y modelos escénicos.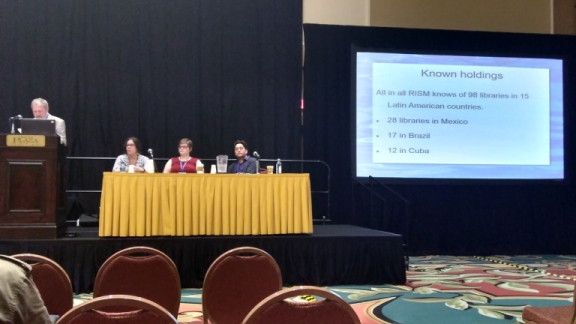 La sesión "Más vale pájaro en mano que cien volando = A bird in the hand is worth two in the bush: the challenges of providing access to diverse Latin American collections" estuvo concentrada en la investigacion, organizacion y diffusion de los manuscritos y colecciones musicales. Klaus Keil (Director del Répertoire International des Sources Musicales) nos record como RISM ha estado catalogando fuentes musicales desde hace más de sesenta años. Su base de datos, abierto al público para su consultación, tiene más un millón de entradas sobre todo de Europa. Afortunadamente, en los últimos años RISM se ha interesado en otras tradiciones musicales. Lentamente, pero a paso seguro, hay hoy en día más de 1,200 entradas provenientes de varios países Latino Americanos. La idea es de incrementar los contactos para compartir las colecciones musicales que alberga dicha área. John G. Lazos (Investigador independiente de Canadá-México) habló sobre la complicada situación en el catalogar música en México, y del caso particular de José Antonio Gómez y Olguín (1805-1876). El Catálogo de Gómez, recientemente terminado y en línea para su consultación publica, contiene más de 140 obras que se encuentran en siente diferentes archivos religiosos y seculares. Esta es la primera vez que tenemos el corpus musical de un significativo músico mexicano de este periodo. Finalmente, Emma Dederick (Bibliotecaria Asociada a la Universidad de Indiana) presentó sobre los caminos que se cruzan en las AMERICA(S): un mapa virtual sobre el descubrimiento musical que ella explicó está basado en la necesidad de compilar todas las colecciones de los EEUU y de otras latitudes. Este trabajo todavía en proceso, enlista las colecciones más importantes que se encuentran en las universidades y bibliotecas de todo el mundo. Este proyecto continúa aceptando contribuciones.