Today, 8th December, we celebrate the 150th anniversary of the birth of the Finnish composer Jean Sibelius. Born Johan Julius Christian Sibelius in the town of Hämeenlinna around 30 miles north of the capital Helsinki he  adopted the name Jean that had been used by a seafaring uncle. His father, a medical doctor, died from typhoid before Sibelius reached two years of age, leaving the family insolvent and having to move into the home of his maternal grandmother. Janne as he was known to the family began to show musical talent from the age of five and by ten he could reproduce on the piano music he had heard at a concert. He came from a Swedish-speaking family as was the case for most in the professional and educated classes at that time but the family chose to send him to the newly established Finnish language grammar school.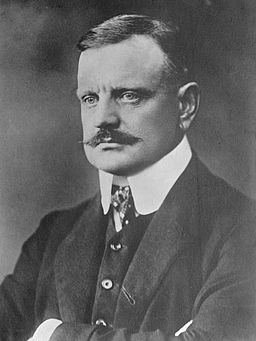 Following a not particularly distinguished time in school Sibelius briefly studied law before his interest in music pushed to the fore. He studied at the Helsinki Music School (1885-9) with Martin Wegelius among others, then continued his studies with a year each in Berlin then Vienna. He studied violin to an advanced level and had an ambition to become a violin soloist. In Vienna he studied composition with Karl Goldmark and Robert Fuchs and as in Vienna he took every opportunity to hear music that was unavailable in Helsinki including works by Wagner and Bruckner.
Many of Sibelius's works take their inspiration from the Kalevala, the Finnish national epic, which was compiled from Finnish and Karelian oral sources by Elias Lönnrot and published in 1849. Though he had been composing from an early age Sibelius's first works of significance date from the early 1890s. The vocal symphony Kullervo based on a story from the Kalevala was well received in several performances, but he then withdrew it for revision and it remained unperformed in its entirety until 1958, following his death.
Finland at the time was under the control of imperial Russia and Sibelius became involved with the nationalist cause. His Music for the Press Celebrations (1899) was written for a festival raising funds to support the Press Pension Fund while newspapers were closed by the Russian censor. It was at the same time something of a celebration of Finnish nationalism. Several parts were later released as Scènes Historiques and most well known of all, Finland Awakes was later published as Finlandia which is often regarded as an unofficial Finnish national anthem.
Throughout his life Sibelius had a propensity for good living and was a borderline alcoholic on some occasions. He would disappear for days at a time into Helsinki restaurants with a group of other young artists including the conductor Robert Kajanus and the artist Axel Gallen-Kallela who famously painted one of their drinking sessions under the title Symposium.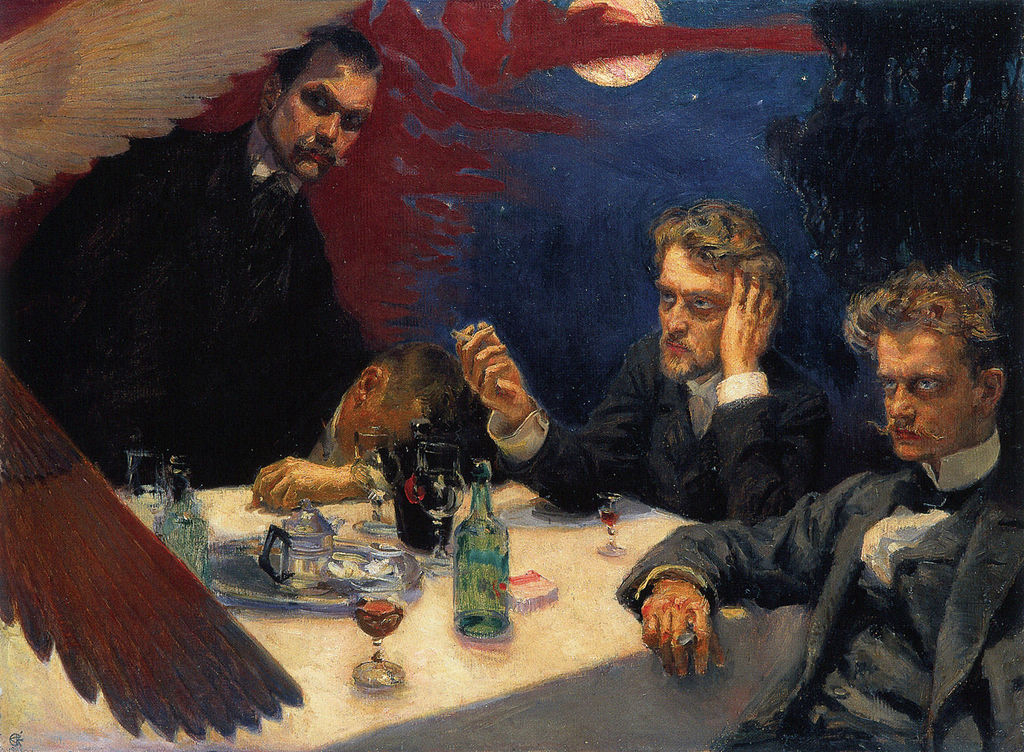 Sibelius married the beautiful Aino Järnefelt in 1892 when the success of Kullervo showed that he might have the means to support her. Throughout her life she had to endure his lengthy alcohol-fuelled absences. Aino bore him five daughters, one of whom died at the age of two during an outbreak of typhoid, leaving him with a lasting feeling of melancholy. In 1904 Sibelius and Aino moved to a new house named Ainola after her and situated near to Lake Tuusula, in Järvenpää around 20 miles north of Helsinki. This was intended to give him the tranquility to compose as well as keeping him away from too easy access to Helsinki café society.
Although he lived to the age of 91, dying of a stroke in 1957, Sibelius composed only during the middle thirty or so years of his life. Various reasons have been advanced for the fact that he more or less gave up composition in the late 1920s but self-criticism and worries at to whether his music was out of step with developments elsewhere most likely played a part.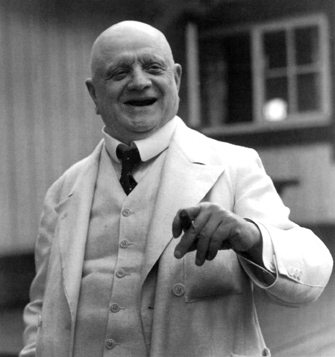 His list of works includes very well-known shorter pieces such as Valse Triste over which, much to his chagrin, he retained only the rights to his original work while Fazer and their German agents Breitkopf were at liberty to rake in the profits from proliferating arrangements. He favoured the form of the symphonic poem, beginning with En Saga in 1892, revised 1902. Several of them draw their inspiration from the Kalevala including Pohjola's Daughter and the Lemminkäinen Suite. Luonnotar (1913) a fusion of symphonic poem and orchestral song was composed for the soprano Aino Ackté. Breitkopf was so uncertain of it that it was published only in piano score with the orchestra score having to wait until 1981. Tapiola, a symphonic poem, was one of his last works; it evokes the elemental power of a storm in the northern forests with frightening intensity while being very tightly composed on a single short theme.
As early as 1893 Sibelius planned to write an opera on the Kalevala story of The Building of the Boat but this never came to fruition. He composed a little-known half hour opera The Maiden in the Tower to a commission in 1896. Though well received for its music it was considered to have been let down by a poor libretto and was not revived.
Sibelius composed incidental music for several plays including King Kristian II (Adolf Paul) and Swanwhite (Strindberg). He was one of four composers along with Debussy, Schoenberg and Fauré to be captivated by Maeterlinck's symbolist play Pelléas et Mélisande, composing incidental music to the play. His incidental music to Shakespeare's Tempest was one of his last large-scale compositions.
Sibelius composed a considerable number of songs, mostly on Swedish texts by poets such as J.L. Runeberg. A few have entered the repertoire but singers seem often to have fought shy of performing in the Swedish language. In between times he also composed a variety of short salon-type pieces to earn money though Aino thought that he was wasting his talents. A pension from the Finnish government awarded on his fiftieth birthday in 1915 somewhat eased the family finances.
It is probably for his abstract works that Sibelius is most highly respected. In mid-career he composed a violin concerto which perhaps exorcised his earlier desire to be a solo violinist and, it has been suggested, encapsulates the soul of Finland in its first movement.
Starting in 1899 Sibelius composed seven very different symphonies. The first, though clearly Finnish in tone owed something to recent Russian models. Already in the second symphony (1902) Sibelius was developing his method of organic growth of themes from small fragments. This symphony probably remains his most popular, particularly for its rousing finale. The third symphony (1907) saw him scaling back his forces and duration. (The third, fourth, fifth and sixth symphonies each run for around half an hour.) The fourth symphony (1911) was widely misunderstood at the time and remains one of the least performed with the tritone  permeating its tonal relations and its ending in muted A minor string chords.  At that time Sibelius had a growth in his throat, thought possibly to be cancer, which was successfully operated upon. After this he managed to forswear cigars and alcohol for around seven years. It was around this time also that he composed the short and dark symphonic poem The Bard.
The fifth symphony, one of his most popular, was composed to coincide with his fiftieth birthday in 1915. After the premiere Sibelius was not satisfied with its form and withdrew it, recasting it twice before the 1919 published version in three movements. In this version he telescopes the first two movements of the original version into one movement, displaying his absolute mastery of the art of seamless transition.
The sixth symphony (1923) was already being sketched while Sibelius wrestled with the form of the fifth. Together with the fourth this is probably the least-performed of the symphonies. A calm modal opening sets the tone for the whole work, described by Sibelius as 'very tranquil in character and outline' and 'pure, cold water' in contrast with what he perceived as the exotic cocktails produced by other composers.
Hard on its heels the seventh symphony (1924) was first performed under the title Fantasia Sinfonica but retitled for publication. The symphony is cast in a single roughly twenty minute span rising from a C major scale in the basses and culminating in a life-affirming C major, its principal theme given unusually to a solo trombone. 
After this Sibelius entered a long period of near silence as far as composition was concerned. There was for many years talk of an eighth symphony in gestation and promised to Serge Koussevitzky. It seems that Sibelius's self criticism together with a feeling that his music was out of time with developments in mainland Europe from the Second Viennese School and others led him ultimately to burn the work probably in 1945. Aino commented that  after this Sibelius seemed much more at peace. It has been suggested that the organ work Surusoitto op.111b composed in 1930 for the funeral of Axel Gallen-Kallela might show the direction in which he might have been moving in the lost symphony, for which admirers of his music still mourn and hope that something will eventiually turn up. Three fragments which might have been part of the symphony have been released as part of the Chandos set of the complete symphonies with the BBC Philharmonic conducted by John Storgårds (CHAN 10809) .
Sibelius's popularity in the Britain and the USA has been fairly consistent except for the usual lull immediately following a composer's death. However his standing in mainland Europe, especially German-speaking lands has mysteriously never been high though a large part of his output was published by German houses.  
For those who think they really know their Sibelius an extensive online quiz should provide an interesting challenge.
Afficionados of both Sibelius and the murder mystery might enjoy a book which manages to combine a serial killer mystery set in Helsinki with insightful lectures on the symphonies.
Short Bibliography
Jean Sibelius by Guy Rickards (London : Phaidon Press, 1997)

Sibelius by Robert Layton (London : Dent, 1965, rev 1978)

Jean Sibelius by Erik Tawaststjerna, five volumes in Finnish, translated as five volumes in Swedish, and translated into three volumes in English (London : Faber, 1976, 1986, 1997)
Although Sibelius conducted his own works with some regularity in earlier years he was only persuaded to make one recording for radio in Helsinki in 1939 of his Andante Festivo. Early recordings of the symphonies and some symphonic poems were made by his friend Robert Kajanus, by Georg Schnéevoigt, Thomas Beecham and Serge Koussevitzky. There are many modern recordings and in particular the entire works of Sibelius have been recorded by the Swedish company BIS, including some original versions of works later revised.