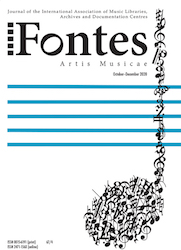 IAML is pleased to announce its Publications Awards for 2019 and 2020. For the best review published in Fontes Artis Musicae in 2019, the François Lesure Award is given to Eivind Buene for a review of Delius and Norway by Andrew J. Boyle (Woodbridge: The Boydell Press, 2017), published in Vol. 66, no. 1: 65–67. This review strikes the right balance between describing the content of the book, while also explaining its shortcomings.
For the best article published in 2019, the Vladimir Federov Award is given to Anita Breckbill and Hannah Jo Smith for 'Follow the Baton: The Story of the Wagner Siegfried Idyll Baton', published in Vol. 66, no. 3: 252–261. This was a heart-warming story, told with a welcome honesty, about returning Wagner's conducting baton to its rightful home in Bayreuth and demonstrates the extremes of a librarian's penchant for 'a place for everything and everything in its place'. The award is also given to Nancy November and Phillippa McKeown-Green for 'Creating and Integrating Video Clips to Develop Music Historical Literacy Skills', published in Vol. 66, no. 4: 323–335. This is a very encouraging article about an innovative library project, which seeks to address the very real problems of information literacy in music students, in a way which appeals to them. 
For the best review published 2020, the François Lesure Award is given to Jonathan Impett for a review of Nostalgia for the Future: Luigi Nono's Selected Writings and Interviews, edited by Angela Ide De Benedictis and Veniero Rizzardi (Berkeley: University of California Press, 2018), published in Vol. 67, no. 4: 381–383. The reviewer takes advantage of his own extensive knowledge of the subject yet wears this learning lightly in an engaging writing style that is informative and leaves the reader wanting to investigate further.  He refers to current events that sets the review firmly in the present, while advocating that awareness of potential futures is inextricably linked with enlightenment.
For the best article published in 2020, the Vladimir Federov Award is given to Sandi-Jo Malmon and Elizabeth Berndt-Morris for 'Surveying Composers: Methods of Distribution, Discoverability, and Accessibility of Their Works and the Corresponding Impact on Library Collections', published in Vol. 67, no. 2: 81–98. The topic of self-publishing composers has been a recurring theme throughout the literature of music librarianship. Many music libraries struggle to include the works of contemporary composers in their collections. The suspicion that composers are unaware of the needs of libraries, and of the service libraries could provide to them in terms of promoting and marketing their works was borne out by the survey results, and the survey provides a practical and methodical approach to assist composers' dissemination practices in a world that has moved away from print exclusivity.