This entry is by Jeong Youn Chang (Ewha Womans University, Seoul, South Korea), a 2015 IAML/IMS Outreach Award recipient (link is external):
2015년 6월, IAML/IMS NEW YORK은 나에게 특별했다. Outreach Funding을 받고 참여할 수 있어서 의미가 남달랐고 줄리어드 스쿨과 뉴욕이 주는 설렘도 있었다. 음악을 하며 나중엔 꼭 나만의도서관을 가지고 싶다라는 큰 꿈을 가졌을 만큼 음악과 도서관은 오랫동안 나의 머리 속에서 공생하고 있었던 듯 하다. 그러다 음악학을 공부하면서 음악자료들을 다루고 체계적으로 정리하여 연구에 기반을 만들고 협업하는 일에 자연스레 관심이 생겼고, 그래서일까 이번 학회는 나에게커다란 선물 보따리 같았다.
제목만 봐도 흥미로운 많은 발표들이 여러 개의 세션으로 나뉘어 진행되어서 나는 그 중 하나만택해서 들을 수 밖에 없다는 점이 못내 아쉬웠다. 발표를 통해 현재 진행 중인 다양한 주제의 연구와 이러한 연구에 기반을 제시할 수 있는 음악자료를 보존하고 제시하는 여러 가지 방법들을접할 수 있었는데, 발표자들은 각자가 오랫동안 해오거나 진행중인 작업들을 소개했고 각 세션의참여자들로부터 조언을 받고 연구의 한계점을 공유해나갔다. 관심분야나 연구방식은 달랐지만 서로가 하고 있는 작업에 따뜻한 관심을 보내주며 격려를 해주는 모습이 보기 좋았고, 진행중인 다양한 연구와 프로젝트에 많은 시간과 노력 및 협업이 요구되기 때문에 지속적인 관심과 재정적인지원이 필요하다는 것에 서로 크게 공감했다. 동시에 나는 이들의 연구와 방식이 한국과 아시아의 자료들에는 어떠한 방식으로 적용될 수 있을지 다시 한 번 더 진지하게 생각해볼 수 있었다. Music Research in the Digital Age, 한국에서 앞으로 해나가야 할 일들과 할 수 있을 일들이 무수히 많겠지만, 무엇보다도 음악을 사랑하고 공유하며, 음악과 관련된 그 어떤 작은 정보 하나라도 소중하게 다루고자 하는 성실함과 진지함이 음악연구에 우선이 되어야 한다는 것을 마음에 담을 수있었다.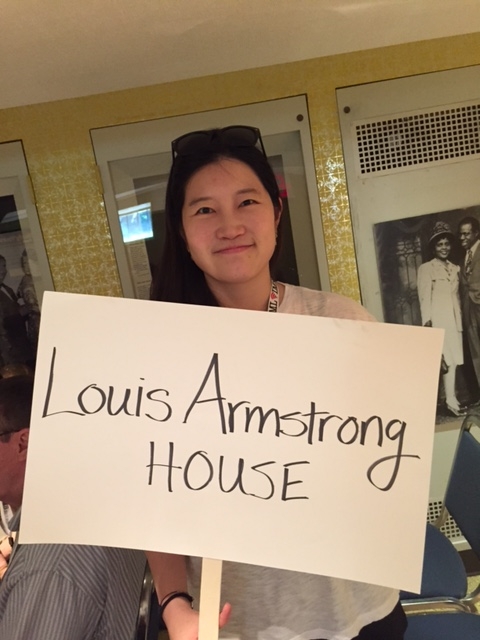 크루즈를 타고 맨해튼 야경을 보며 즐거웠던 시간, 언제든지 짬을 내어 갈 수 있는 전시, 참여자들에게 열려있던 줄리어드 스쿨에서 보고 들을 수 있었던 다수의 음악, 또 작은 그룹으로 모여함께 도란도란 참여했던 투어 프로그램도 이번 학술대회의 큰 매력이었다. 발표를 듣기 위해 걸어가던 복도에서 마주칠 수 있었던 발레복을 입은 앳된 학생들의 모습까지도 하나하나 기억에 남는걸 보면 나에겐 참 의미 있었던 시간인 것이 분명하다. 음악을 사랑하는 사람들과 함께, 음악에대해 이야기할 수 있는 시간이어서 행복했다.
Photo courtesy of Jeong Youn Chang.