The following reflection on Rome 2016 has come in from Marianna Zsoldos, Head of the Music and Foreign Language Department at Bródy Sándor Public Library (Eger, Hungary):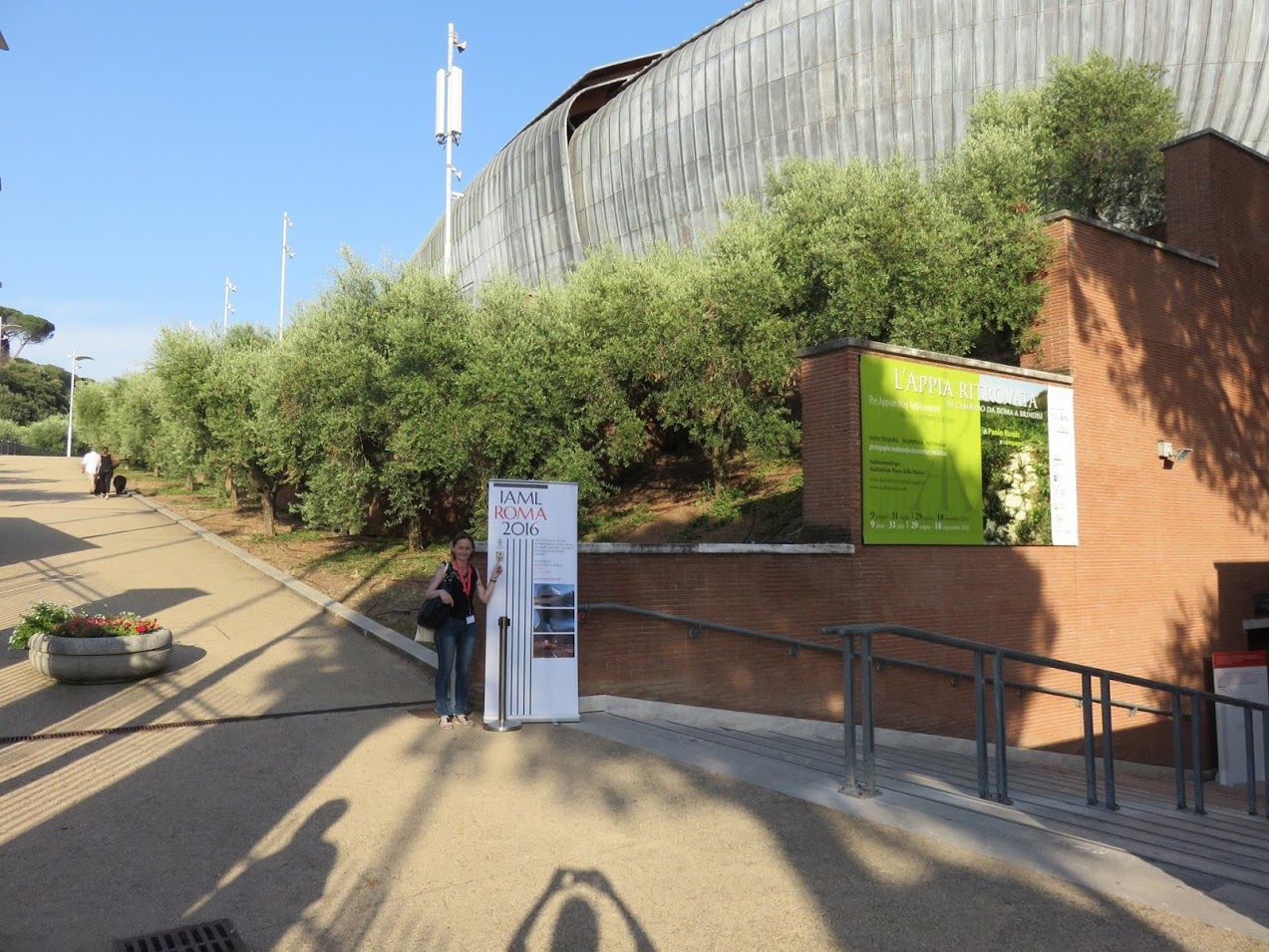 Ez volt az első IAML Kongresszusom és először jártam Rómában. Mindkettő a bakancslistámon volt, mindkettő lenyűgözött.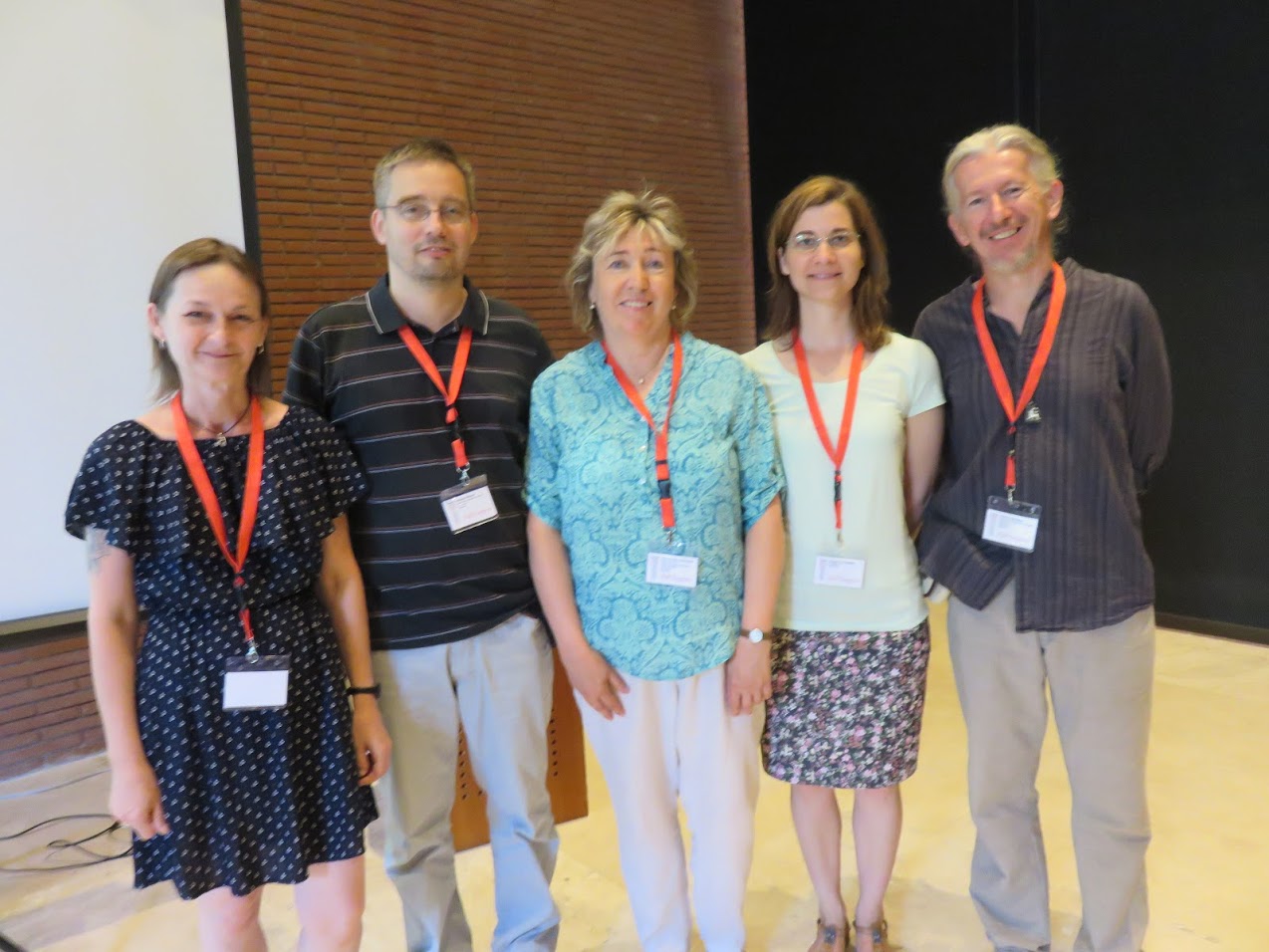 Az AIBM Magyar Nemzeti Csoportot öten képviseltük a kongresszuson, jobbról balra: Grégász Miklós (DEENK Médiatár), Gergely Boglárka (LFZE Könyvtára), Kaizinger Rita (Magyar Nemzeti Filharmonikus Zenekar, Énekkar és Kottatár), dr. Mikusi Balázs (OSZK Zeneműtára), Zsoldos Marianna (Bródy Sándor Megyei és Városi Könyvtár).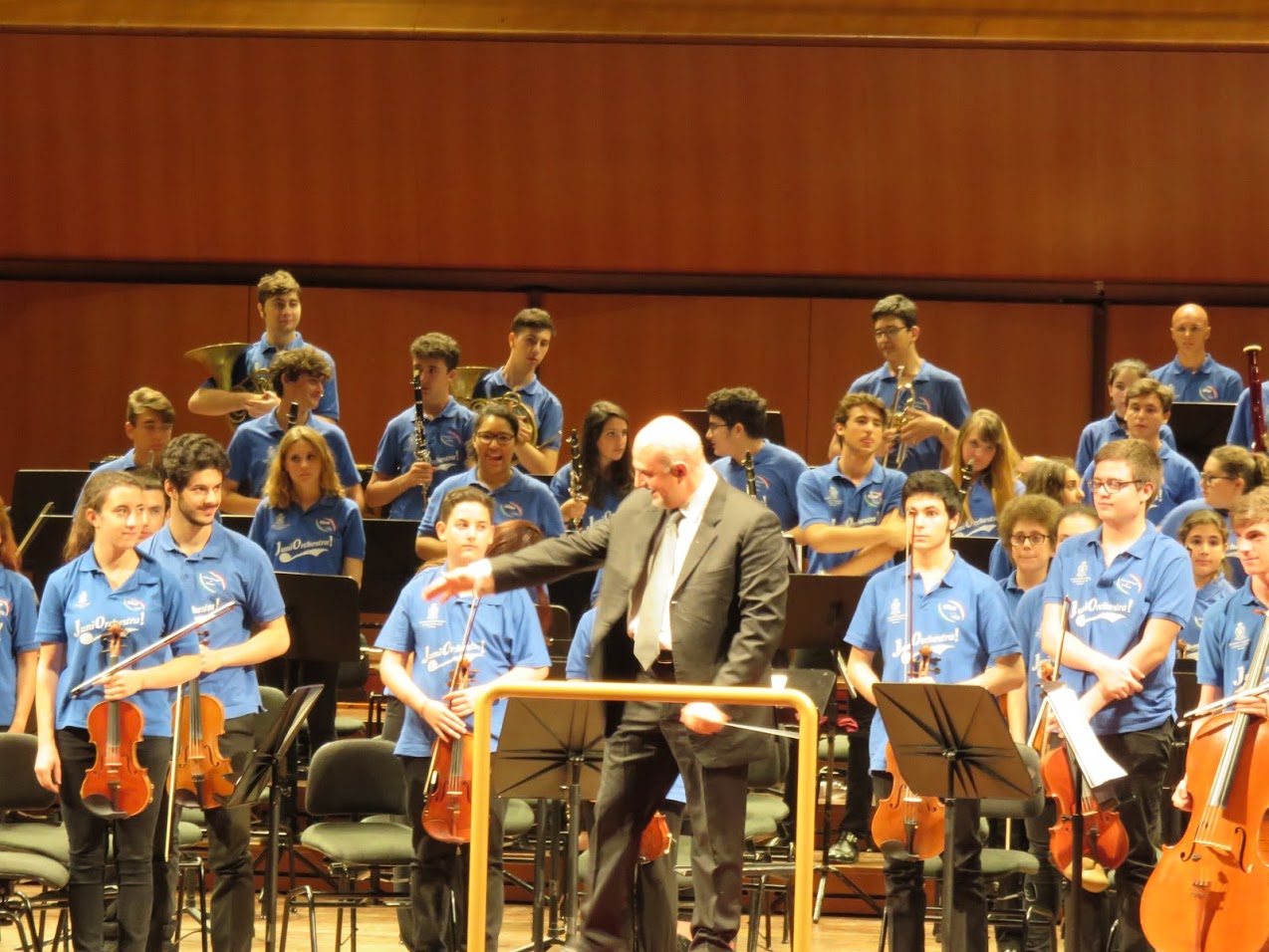 Óriási benyomást tett rám nyitányként a Santa Cecilia Hallban hallott koncert, amelyen a zeneakadémia ifjúsági zenekara adott rövid koncertet Simone Genuini vezényletével, Beethoven Románcában és Borogyin Polovec táncaiban gyönyörködtünk. Az ezt követő fogadás a finom falatok mellett kötetlen beszélgetésekre és ismerkedésre is alkalmas volt.
Hétfőn reggel a Multimédia Könyvtárban az IAML kongresszuson először résztvevőket igazították el és mutatkozott be a vezetőség, köztük büszkeségünk, az IAML egyik újonnan megválasztott alelnöke dr. Mikusi Balázs.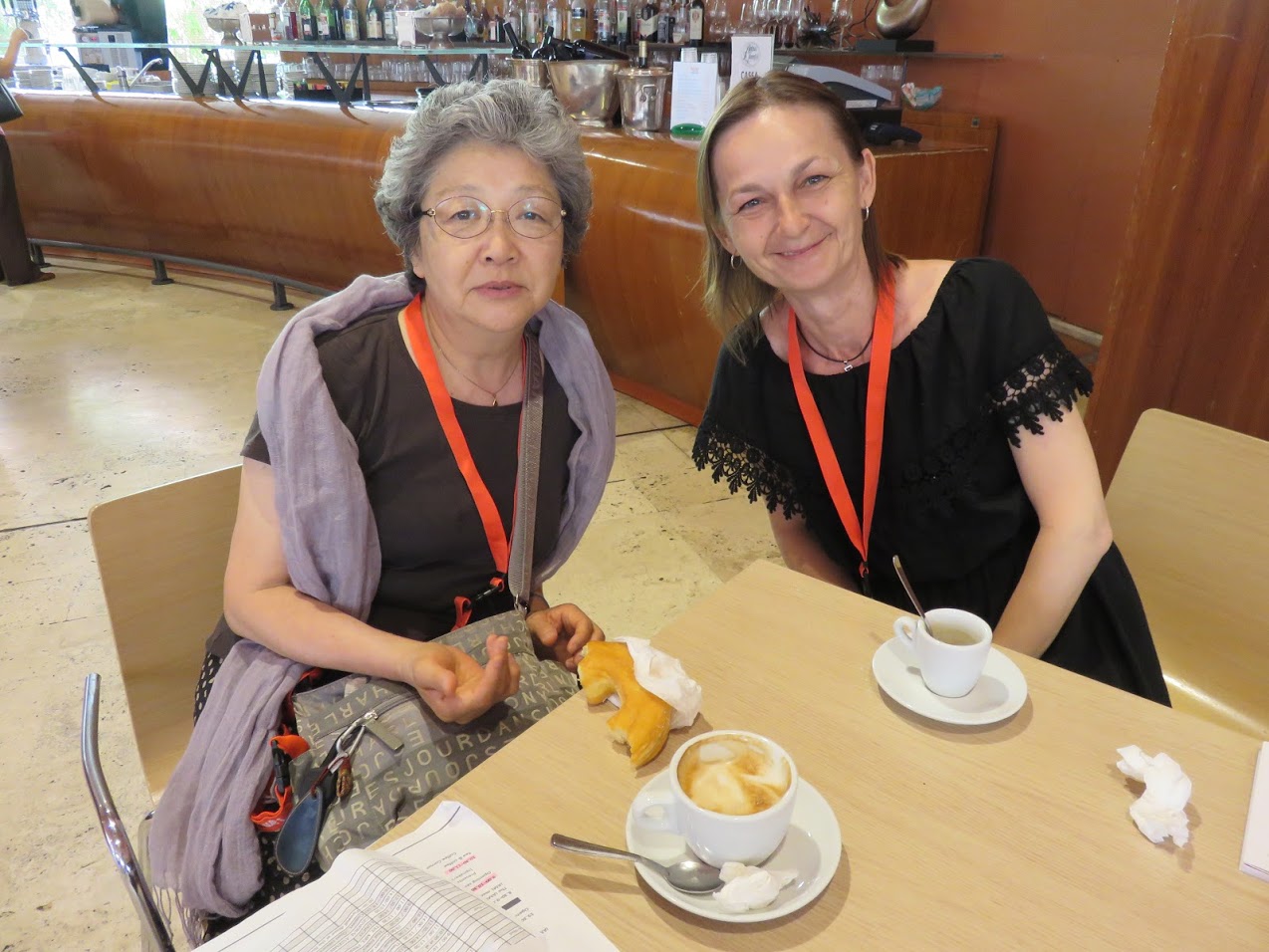 A nyitóülés után a kávézóban találkozhattunk mentorunkkal, aki röviden összefoglalta a tudnivalókat, az én mentorom a kedves japán Yasuko Todo volt.
A kongresszus szerkezetét egy könyvtáros vándorgyűléshez tudnám hasonlítani, csak épp nagyban és nemzetközi szinten: voltak közös programok, nyitó- és záróülés, közgyűlés, plenáris ülés, aztán hétfőtől péntekig minden délelőtt és délután az egyes szekciók által szervezett közös címmel összefogott munkaülések (working session) és találkozók. Az IAML történetében először a nyitóülést és plenáris ülést streaming formájában követhették az érdeklődők a YouTube-on.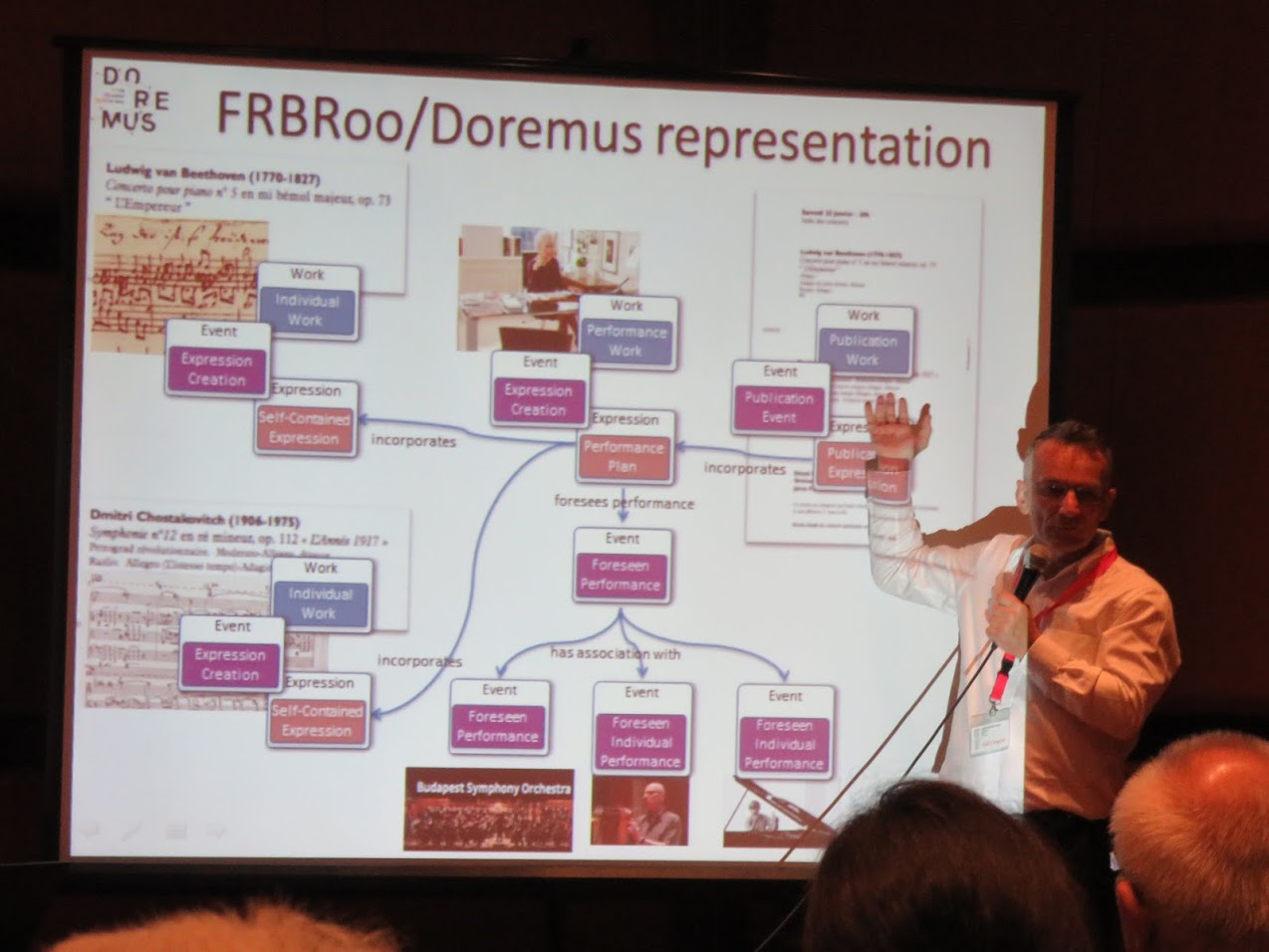 A közkönyvtárak szekciója által szervezett programok érdekeltek a legjobban, de meghallgattam az izgalmasnak tűnő új projektbemutatókat is, mint a franciák DOREMUS (DOing REusable MUSical data) kezdeményezése, amely kifejezetten zenei metaadatok cseréjét és újrahasznosítását szolgálja.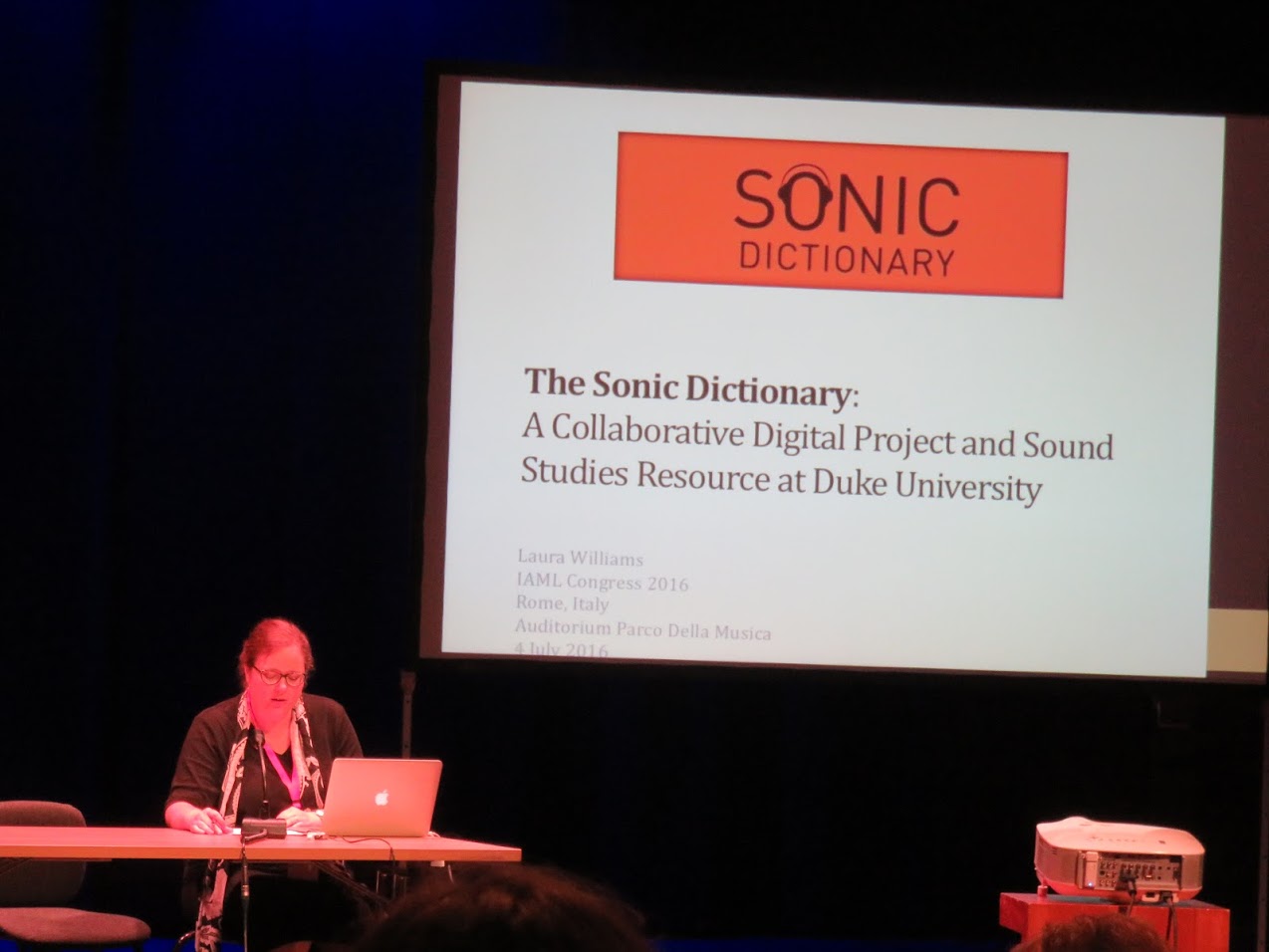 Az IDEAMA, amely az elektroakusztikus zene archívuma, a Sonic Dictionary a Duke University által publikált hanggyűjtemény, csomó jópofa hangeffekttel, valamint az Europeana Sounds Project. Az EBSCO egy nagyon hasznos összefoglalót tartott zenei adatbázisairól, amelyek között teljes szövegűek is vannak (Music Index with Full Text, RILM Abstracts of Music Literature with Full Text, RILM Abstracts of Music Literature, RILM Music Encyclopedias stb.).
Az Exploring music resources elnevezésű ülés keretében Jihong Zhang a sangháji konzervatórium különgyűjteményéről, mint a legelső kínai zenei könyvtár kincseiről beszélt és egy különleges kínai kottafüzetet és a nedvességet magába szívó káprázatos illatú fakütyüt ajándékozott nekünk. Megismerkedtünk a brazil zenei archívumokkal, majd a magyar színek képviseletében Kaizinger Rita a Magyar Nemzeti Filharmonikus Zenekar, Énekkar és Kottatár munkatársa Music map of Hungary címmel a nagy magyar archívumokat mutatta be, köztük a gyulai Erkel emlékeket, a Liszt Múzeumot, a győri Richter hagyatékot, a Dohnányi Archívumot, a ZTI Bartók Archívumát, a Kodály Múzeumot és a Lajtha László hagyatékot.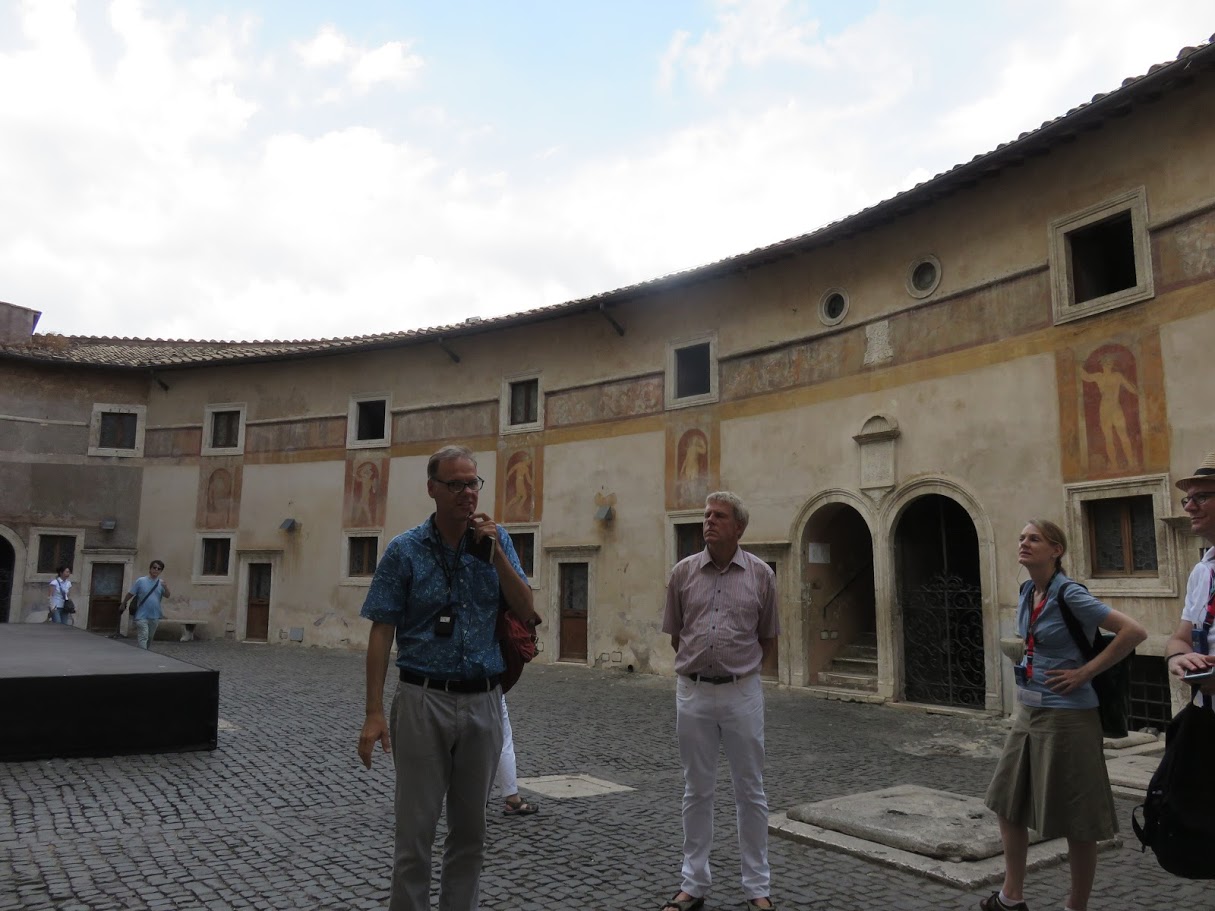 Szerdán 12 szervezett túrából választhattunk, én Puccini: Tosca c. operájának helyszíneit bebarangoló túrára mentem, ahol két nagyszerű idegenvezető a Sant'Andrea della Valle templom, a Farneses palota és az Angyalvár csodáit felfedezve idézték fel az opera történéseit.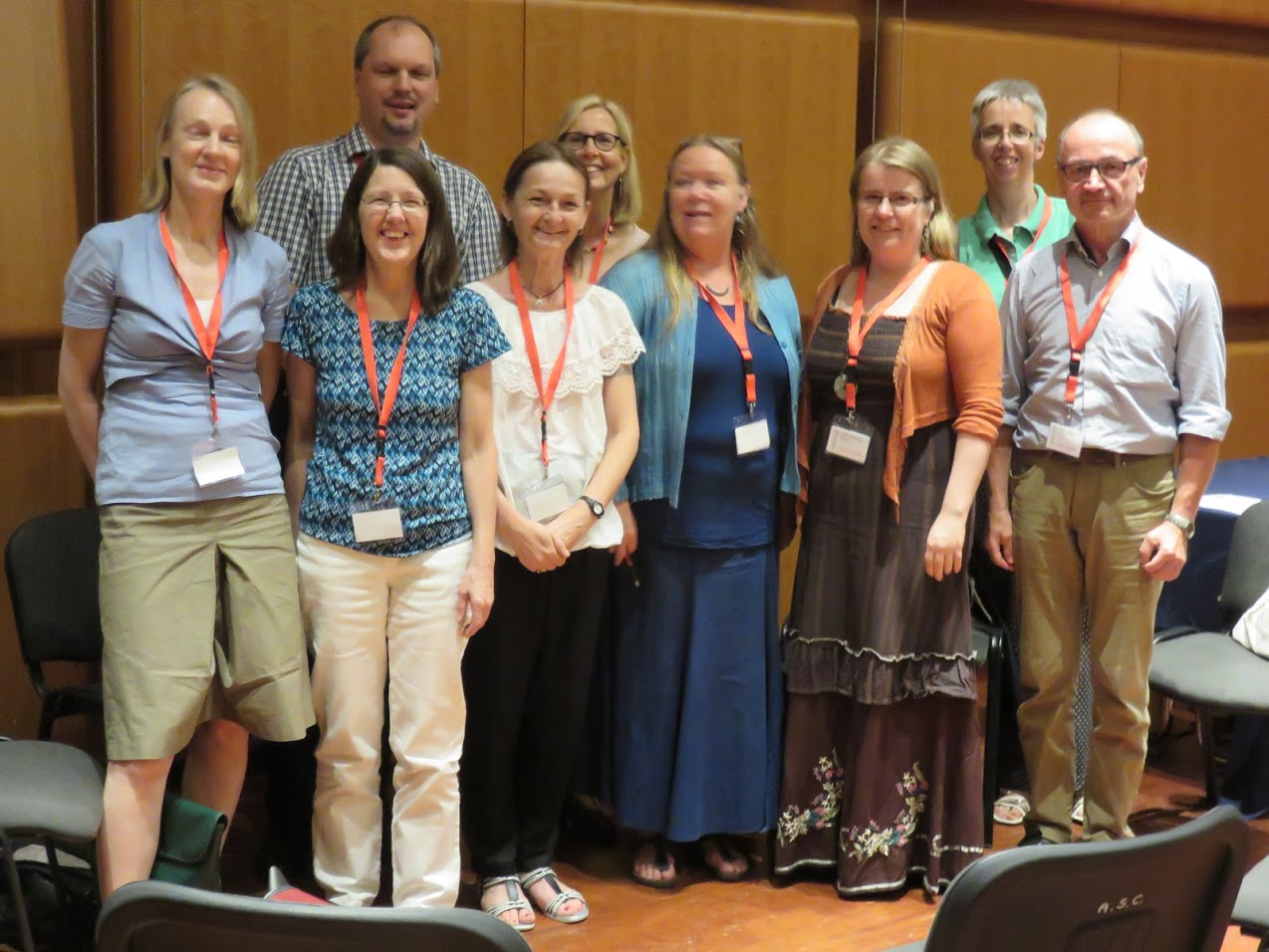 A Public Libraries Branch munkatalálkozóján amerikai, német, cseh, holland kollégákkal és munkahelyükkel ismerkedtem meg, ajánlást fogalmaztunk meg, szó esett Facebook csoportunkról (IAML Public Libraries Community), a kommunikációról, aktuális kérdésekről, jövőbeli tervekről, a jövő évi rigai kongresszus témáiról.
A Carolyn Dow (Lincoln City Libraries' Polley Music Library) vezette szekció szervezésében a keddi munkaülésen az egyik előadó a holland könyvtáros blogger John Valk (Public Library, Rotterdam) volt, aki az iPad és okostelefonok zenészek számára használható alkalmazásairól beszélt.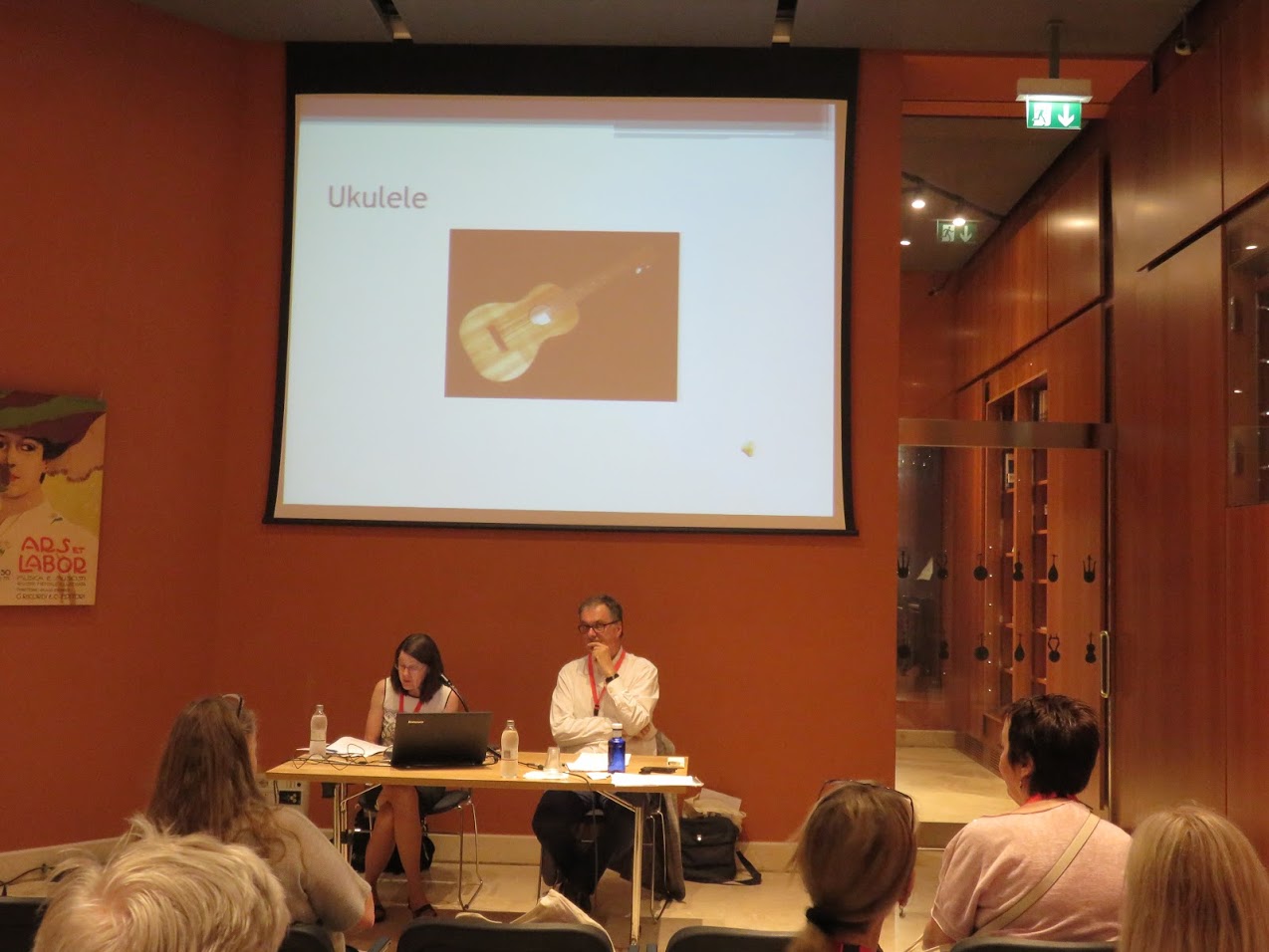 Carolyn Dow a Lincoln City Libraries-ben megvalósuló ukulele kölcsönző projektről és könyvtári lebonyolításáról beszélt.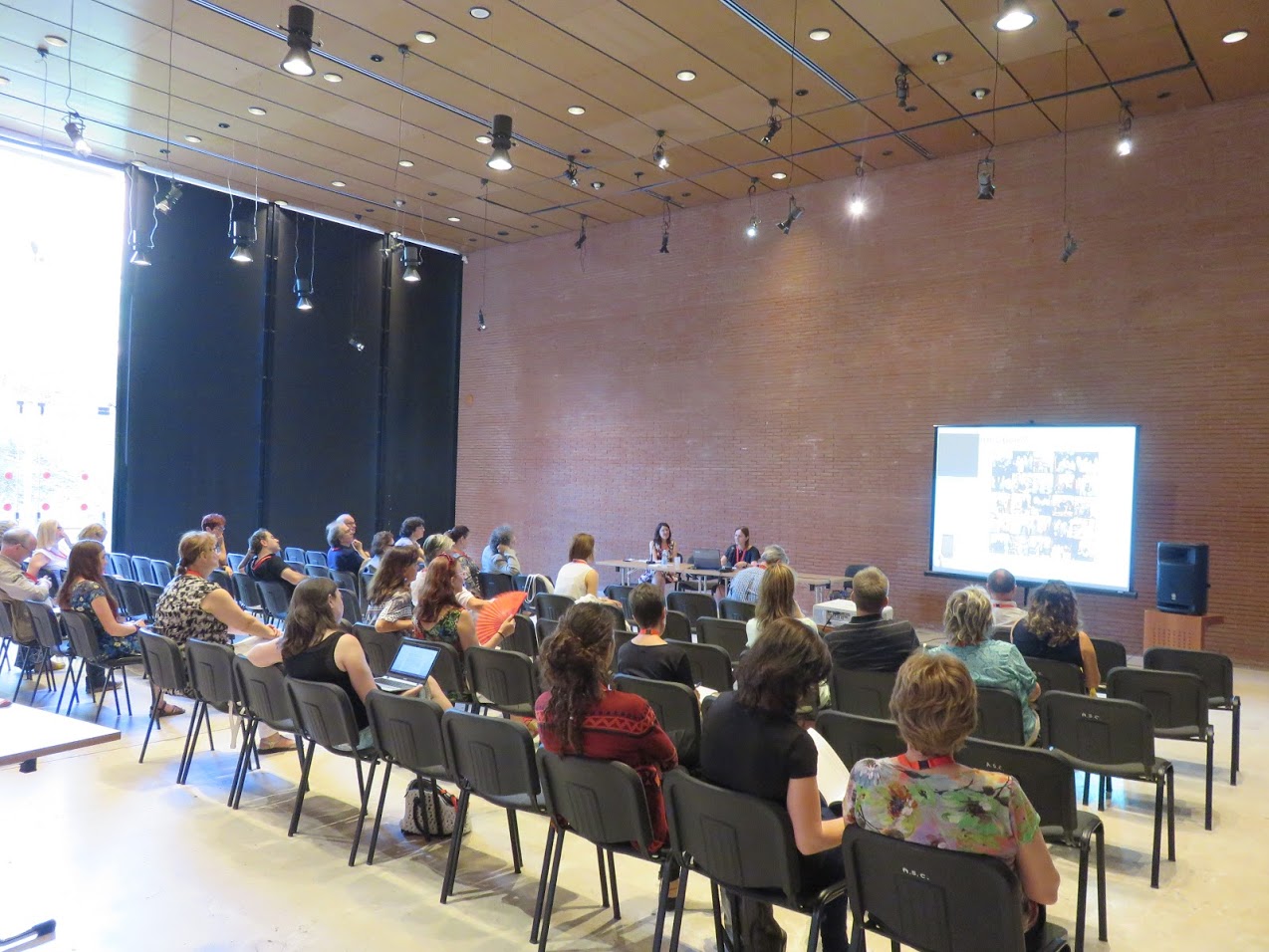 A pénteki, utolsó napon pedig az. ún. City treasures ülésen Rock star selfies: How can we use a hobby as a tool of making our public library more popular címmel került sor az előadásomra. Beszéltem röviden Egerről, zenei életéről, majd a Bródy Sándor Könyvtárról, az általa használt webkettes alkalmazásokról, majd rátértem hobbimra, a zenészekkel való fotózkodásra és miként használom ezt könyvtárunk népszerűsítésére. Nagy sikere volt a megjelentek körében, jó páran külön gratuláltak, követendő példaként értékelték kezdeményezéseinket, s mondták, hogy előadhatnék a jövő évi rigai kongresszuson is.
Félórás bemutatóm után a nápolyi dalok olasz gyűjteményeiről hallhattunk összefoglalót.
A záróülés után még egy fantasztikus bepillantást nyerhettünk a Santa Cecilia Zeneakadémia zenekarának nyílt próbájába, ahol Antonio Pappano vezényelt és az első részben egy zseniális, vagány zongorista Stefano Bollani szólójával Gershwin Kék rapszódiáját élveztük.
Nagyon hamar elszállt ez a hét, minden nap délután kalappal, vízzel, offline térképalkalmazással felszerelkezve fedeztem fel a gyönyörűséges Rómát, jó turistaként a leghíresebb látnivalókhoz zarándokoltam (Trevi kút, Spanyol lépcső, Pantheon, Piazza Navona, Hard Rock Café Rome, San Pietro in Vincoli és Michelangelo Mózes szobra, Colosseum, Forum Romanum, Santa Maria in Cosmedin és az Igazság szája, Capitolium, a Vatikáni Múzeum és a Sixtusi kápolna Michelangelo, Raffaello és modern képzőművészek alkotásaival, a Laokoón-csoporttal, a Szent Péter-bazilika a Piétával és kupolájával, s végezetül a tengerpart). Biztos, ami biztos első este már bedobtam az érmémet a Trevi kútba, hogy egyszer talán visszatérhessek.
Köszönöm az IAML, az NKA, az AIBM Magyar Nemzeti Csoport és a Bródy Sándor Könyvtár támogatását utamhoz.
Fotók (Photos)