The following has come to us from Guri Frenning, University Library of Southern Denmark:
Rapport fra musikbibliotekskonference i Rom 3-8. juli 2016
På de værste regnvejrsdage henover den danske sommer blev den 65. internationale kongres i IAML (International Association of Music Libraries, Archives and Documentation Centres) afholdt i Rom fra 3-8. juli. Kongressen arrangeres årligt forskellige steder i verden. I år altså i Rom; næste år i Riga, i 2018 i Leipzig, og i 2019 i Krakow.
Undertegnede var så heldig at få lov til at deltage i årets kongres, med god støtte fra DMBF – Dansk Musikbiblioteksforening, og Syddansk Universitetsbibliotek. Det er jeg meget taknemlige for.
Fra Danmark deltog også Anne Ørbæk Jensen, som er specialkonsulent og forskningsbibliotekar i musikvidenskab på KB, Musse Magnussen Svare, som er biblioteksleder på Det Kgl. Danske Musikkonservatorium, samt Anne Helle Jespersen, som er forskningsbibliotekar ved Syddansk Universitetsbibliotek, og medlem af bestyrelsen i DMBF.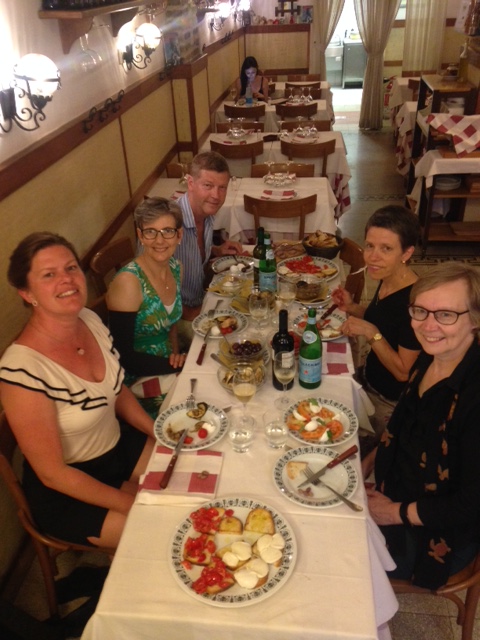 De danske deltagere
Et meget omfattende og spændende program var sat op med mange parallelle sessioner og foredrag fra kl. ni om morgenen til halv seks-seks om aftenen. Da IAML er en organisation for både biblioteker og arkiver, genspejles dette i konferencens forskellige temaer, som groft kan inddeles i musikhistoriske sessioner, med vægt på arkiver, og bibliotekstekniske sessioner.
Alle sessioner foregik i Auditorium Parco della Musica, et lækkert både inden- og udendørs musik- og konferencecenter, som er en del af Academia Nazionale di Santa Cecilia – en af Italiens ældste og mest fremtrædende musikinstitutioner. Da alle deltagere var samlet på et forholdsvis lille område, gav det god anledning til at snakke sammen, spise sammen, udveksle erfaringer, blive kendt med nye kollegaer, og nemt nå fra det ene foredrag til det andet.
Efter et velkomstarrangement søndag aften, med bl.a. en lille koncert med juniororkestret ved Academia Nazionale di Santa Cecilia, blev kongressen skudt i gang med en tutti-session mandag morgen, hvor vi blev præsenteret for Academia Nazionale di Santa Cecilias historie, RAI Teches enorme arkiver med optagelser fra italiensk radio og TV, Det Sixtinske Kapels Kors arbejde og formidling af italiensk pavelig musik, og til sidst Instituto Centrale per beni sonori e Audivisivis (The Central Institute for Sound and Audiovisual Heritage) arbejde med at digitalisere og tilgængeliggøre deres store film- og lydsamling. Denne sessionen blev streamet og kan ses på dette youtube-link.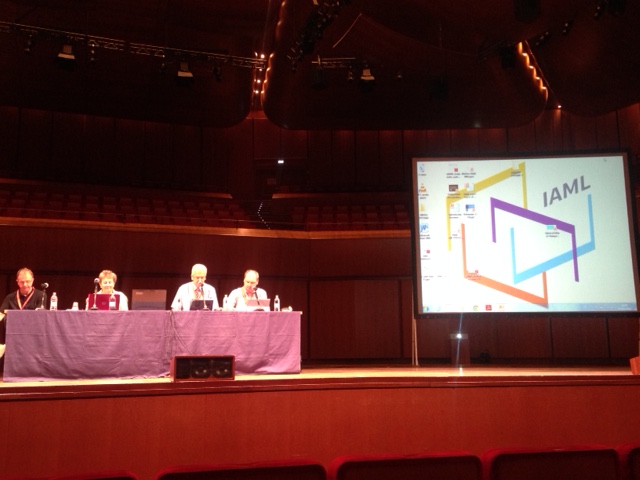 Med Italien som værtsnation var det naturligt at det italienske perspektiv stod centralt også ved senere sessioner, hvor man blandt andet fokuserede på det italienske musikforlag Casa Ricordis store arkiver, musikforlaget Schotts arkiver i Tyskland, og den historiske forbindelsen mellem disse.
Ikke overraskende stod også digitalisering og Open Access på agendaen for rigtig mange af foredragsholderne. En stor del af foredragene handlede om forskellige digitale løsninger på hvordan man organiserer, kobler, genfinder og gengiver data digitalt, også når det gælder musikdokumenter, som jo kan fremstå i mange forskellige former (noder i forskellige udgaver, indspilninger, billedmaterialer etc.). Et spændende initiativ her var Open Music Library fra udgiveren Alexander Street i London. Af andre kan nævnes BIBFRAME, som er sat i søen af Bibliographic Framework Initiative ved The Library of Congress; MEI (The Music Encoding Initiative), som drives af Akademie der Wissenschaften und der Litteratur i Mainz, og er den musikalsk udgave af TEI (The text encoding initiative); og DOREMUS, som har som opgave at udvikle redskaber og metoder til at beskrive, publicere, sammenkoble og sætte musikkataloger på webben ind i en større sammenhæng ved brug af semantiske webteknologier. Også Danmark gør sig gældende som aktør i den digitale udvikling: MerMEId (Metadata Editor and Repository for MEI Data) er en videreudvikling af MEI, og udviklet af DCM; Dansk Center for Musikudgivelser, i forbindelse med udgivelsen af den tematiske katalog med Carl Nielsens værker.
Også de mere musikhistoriske sessioner var interessante og omfangsrige, med et stort spænd i tema og tid; fra den norske Birgit Krohns håndskrevne nodebog fra århundredeskiftet 1800-1900, til de tidligere nævnte store arkiver hos Ricordi og Schott: Bibliographical approaches to early music; Composer's archives – Busoni, Legley, Gentilucci.
Sjovt var det også at høre om hvordan en bibliotekar i den ungarske by Eger startet sit eget projekt i form af en blog for at tiltrække unge mennesker til biblioteket.  Temaerne er musik, bibliotek og byen Eger. Hun udnytter sin stor lidenskab for rock, og tager rundt til rockkoncerter i ind- og udland, hvor hun lader sig fotografere sammen med kendte og ukendte rockstjerner, for derefter at lægge fotoerne ud på sin blog. En meget sjov og spændstig dame!
Onsdag eftermiddag var turen kommet til den faste udflugt. I år blev der arrangeret flere ture rundt om i Rom. Jeg kom ikke med til min første prioritet, men fik alligevel en meget fin og oplevelsesrig tur i de historiske fodspor til Academia Nazionale di Santa Cecilia, ikke mindst takket være en meget levende og livlig guide; lederen for biblioteket ved akademiet; Annalisa Bini.
Alt i alt gav de mange bidrag fra de forskellige medlemslande et varieret og mangfoldigt billede af dagens biblioteks- og arkivverden. Vi tog hjem med meget mere viden om hvad der foregår rundt omkring i verden inden for vores felt og med en større forståelse og respekt for forskellige landes kultur- og musikliv, som genspejles i deres biblioteker, arkiver og uddannelsesinstitutioner.
Tusind tak til DMBF, som støttet mig ved at betale min deltagerafgift!
Guri Frenning