This entry is by Sara Brown (New Zealand), an accompanying person at the 2017 Congress in Riga:
Riga and the IAML Congress were a real treat for me. I was there as an 'accompanying person' with my partner, Rhys (thanks to Roger Flury and David Vine for the image of carrying around a piano, ready to play at a moment's notice…). Getting to Riga was an adventure as the distance from Dunedin, New Zealand to Riga is about 17405 km in a straight line according to Google Maps.
We left Dunedin on a Thursday morning, heading to Riga via four flights. After 27 hours of flying, and many hours of queues in airports, we arrived in Riga on the Friday afternoon, having experienced two Thursdays (travelling long distances from New Zealand is a bit of a time-travel mission). After a refreshing nap at the hotel, we set out to get to know the city. As we were hungry, we looked for somewhere to eat. Only two New Zealanders (or Kiwis as we call ourselves) would accidently find Riga's Kiwi Bar (it's behind St Peter's Church, if you are looking for it). So – a Kiwi Bar in Riga – that's a bit odd, but as we could prove our nationality we did get a free beer or cider, that's a pretty good start.
Saturday was an exploration day as well, so we wandered the streets of old Riga and gradually fell more and more in love with the beauty of the city. I also managed to find a great music shop (Upe) where I bought a tiny kokle to take home. All I need now is to find the appropriate tuning so I can play it a little. The musical highlights of the day included a brief organ concert at the Riga Dom, and the sound of a male voice choir approaching from a distance in the middle of the city that turned out to be two party bikes of about 20 men singing in harmony as they pedalled (and drank beer) around the medieval streets.
On Sunday, we walked from our hotel through the city and across the bridge to the National Library of Latvia to wait for the tour bus for the pre-Congress tour to Rundale Pils (Rundale Palace). As a travel-nerd, I had read as much as I could find online about Rundale. I come from a country that has had European occupation for just over 200 years, and human occupation for about 900 years. Our buildings aren't very old, so a palace like Rundale is exciting for me. The trip into the countryside was also a great opportunity to see what Latvia is like outside its biggest city. And we saw storks. I even managed to get a photo of storks and their nest on top of Rundale Pils. Best of all, we met some lovely people who helped make our time in Riga so memorable (Hilde, Noor, Matthew, Lena, Anders… and so many more).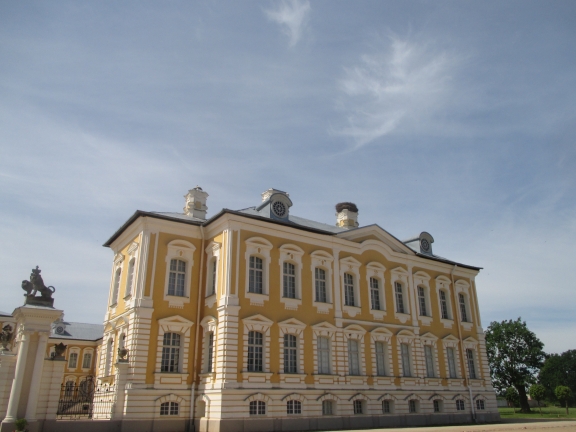 Rundale Palace with storks' nest on the chimney
Rhys and I attended the session for people new to the Congress on Sunday evening, just before the lovely opening ceremony at which we heard the kokle played so beautifully.  Then a walk back to the hotel across the city and a good night's sleep before the Congress really got going.
Coming from New Zealand, where choral music is a popular activity, I was aware of the music of Ēriks Ešenvalds, and that he was due to arrive in New Zealand in July for a choral convention in Auckland. I was particularly excited to see he was one of the speakers at the opening session of the congress… a 'fan-girl' moment. To hear him ask if there were any nice volcano stories was an opening I couldn't resist: New Zealand has legends about volcanoes – our country is geologically young, and the first people of New Zealand, the Māori have stories about volcanoes that are wonderful tales. So, being the confident kiwi that I am, I approached Ēriks and told him a love story of two volcanoes (yes, volcanoes do fall in and out of love).
So… after a chat, suddenly we were invited to dinner with Ēriks, his family and his film crew. On Tuesday evening Ēriks picked us up from the library and took us out into the Latvian countryside to his home. We had a great meal, and spent a few hours talking about the New Zealand countryside (they filmed 'Lord of the Rings' everywhere…), and where to find the best volcanoes (White Island, it's active and you can visit it…). We felt it our duty to explain that most of the volcanoes would have snow on them in July (it's our winter time). We also introduce Ēriks to Taonga Pūoro, the musical instruments of the Māori (New Zealand's first people) which he loved. Thanks to friends back at home we have been able to facilitate contact between Ēriks and some Taonga Pūoro players. As we left that evening (getting a lift back into Riga from Dinas, the camera man) Ēriks gave us a couple of his CDs, and Renars (award winning film director) gave us a DVD of his first feature film.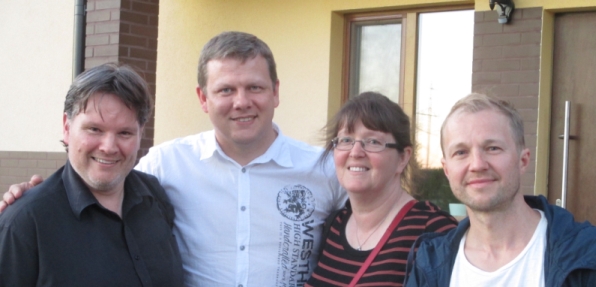 Rhys, Ēriks, Sara and Renars (film director)
Well, there really wasn't much else that could top that adventure for us. Although, the Congress was interesting, the concert on Monday night was exquisite, the walk round old Riga on Wednesday was fascinating, and the National Library itself was overwhelmingly beautiful as well as functional, the RILM reception was great fun, plus the dinner on Thursday was fabulous, and the long light evenings were spectacular…
The joy of being an accompanying person at IAML in Riga is quite amazing. I am a musician, and I enjoyed the many presentations I heard, even if I don't understand all the librarianship information. I certainly understand and empathise with many of the issues around funding and advocacy as I'm in music education. I had a week of exploring a beautiful city in a country that is almost as far from my own as it is possible to be, meeting interesting people from all over the world. Thanks must go to the brilliant teams who have worked to put the Congress together – to the Latvian organising committee and volunteers who made us all feel so welcome, to our wonderful mentor, Lena, and to the leadership of IAML, who were unfailingly friendly to an accompanying person from far, far away. We are saving up for the next big trip.