The twelfth congress diary sharing an aspect of the 2018 IAML Congress in Leipzig is by Uta-Johanna Alpers (WDR Notenarchiv, Cologne).
Am Dienstag, den 24. Juli haben wir in einer beschaulichen kleinen Gruppe von sage und schreibe fünf Leuten eine sehr schöne Führung durch das Musikarchiv in der Deutschen Nationalbibliothek Leipzig erleben dürfen, das vor wenigen Jahren von Berlin nach Leipzig in Form eines Neu-Anbaus an das klassisch-altehrwürdige Originalgebäude aus dem Jahr 1913 umzog. Dabei gab es vonseiten der sehr netten "Bibliotheks-Guide" viel Input anhand von zahlreichem Beispielmaterial. Hinter hohen Vitrinen konnte man beispielsweise die bunte Geschichte der verschiedensten Tonträger entdecken, die mit der Erfindung der Tonaufzeichnung auf Walzen durch Thomas Alva Edison (1847-1931) seinen Anfang nahm. Mit seinem im Jahre 1878 patentierten Phonograph und der mit Zinnfolie überzogenen Walze zur mechanisch-akustischen Tonaufzeichnung mittels Tiefenschrift konnten schließlich Aufzeichnung und Wiedergabe von Stimmen realisiert werden. Emile Berliner (1851-1929) entwickelte auf Edisons Technik hin einen plattenförmigen Informationsträger und ließ dabei Schallinformationen in spiralförmige Rillen mittels einer Seitenschrift eingravieren. So konnte es bereits im Jahr 1887 zur Patentanmeldung der den meisten von uns noch bekannten Schallplatte kommen, auf dessen Grundlage weitere technische Innovationen folgen sollten…In einen unübertroffenen akustischen Genuss kamen wir, als wir im kleinen schallisolierten Hörkabinett Platz nehmen durften und einem klassischen Konzertmitschnitt auf DVD anhören konnten – ein übrigens potentiell lebensgefährlicher Raum, da man von außen nicht hören kann, was im Innenraum geschieht. Spaß beiseite. Der Lesesaal des Musikarchivs, der direkt an das alte Gebäude angrenzt und im Übrigen auch anderen Fachbereichen offensteht (davon zeugt sogar ein Schild), gehört, so erfährt man, wohl zu den raren Orten mit Klimaanlage: Dankbar betreten wir das mit beigem Teppichboden ausgelegte runde Areal mit den hohen Fenstern und im Moment noch wenigen Nutzern – der Musiklesesaal scheint hier immer noch ein echter Geheimtipp für ungestörtes, wenn vielleicht auch einsames Arbeiten zu sein. Der absolute Hör-Höhepunkt geschah uns, als in einem weiteren Raum ein Klavier scheinbar ganz von selbst wunderbare und zugleich anspruchsvolle Musikstücke spielte, welches es bei näherem Hinsehen heimlich gewissen Lochkarten entlockte…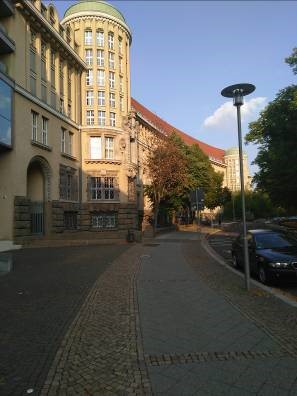 Deutsche Nationalbibliothek Leipzig, altes Gebäude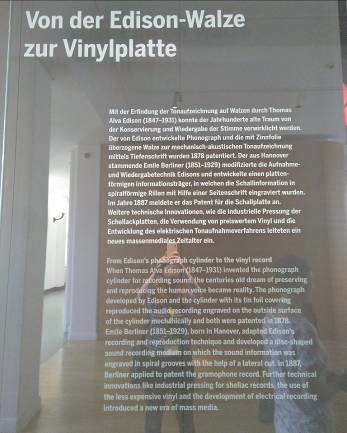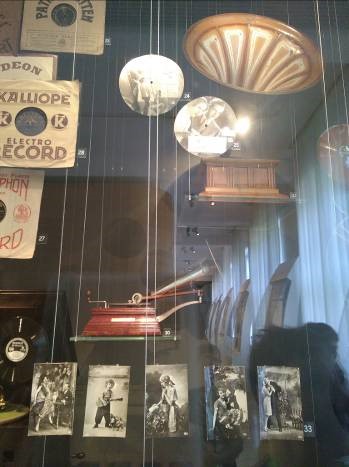 Geschichte der Tonträger
Am darauffolgenden Tag fand sich eine Gruppe von MusikbibliothekarInnen bzw. ihren Begleitpersonen zusammen, die sich um 13 Uhr vor der Hochschule für Musik in einem Bus zusammenfand, um einen Ausflug zu den berühmten Silbermann-Orgeln nach Rötha unweit von Leipzig zu unternehmen. Gleich in zwei Kirchen wurden wir dazu eingeladen, das bedeutete für uns als musikinteressiertes Publikum auch - Sie ahnen es schon -  zwei Konzerte, darunter natürlich Musik des Leipziger Thomaskantors Johann Sebastian Bach. Eine sehr nette Überraschung erwartete uns bereits nach dem ersten Konzert – die Seniorinnen der Kirchengemeinden hatten im Gemeindehaus eine Kuchentafel nebst belegten Broten aufgebaut und Kaffee gekocht. Anschließend konnten wir gesättigt und entspannt dem zweiten Teil des umfangreichen "Silbermann-Orgelkonzertes" lauschen.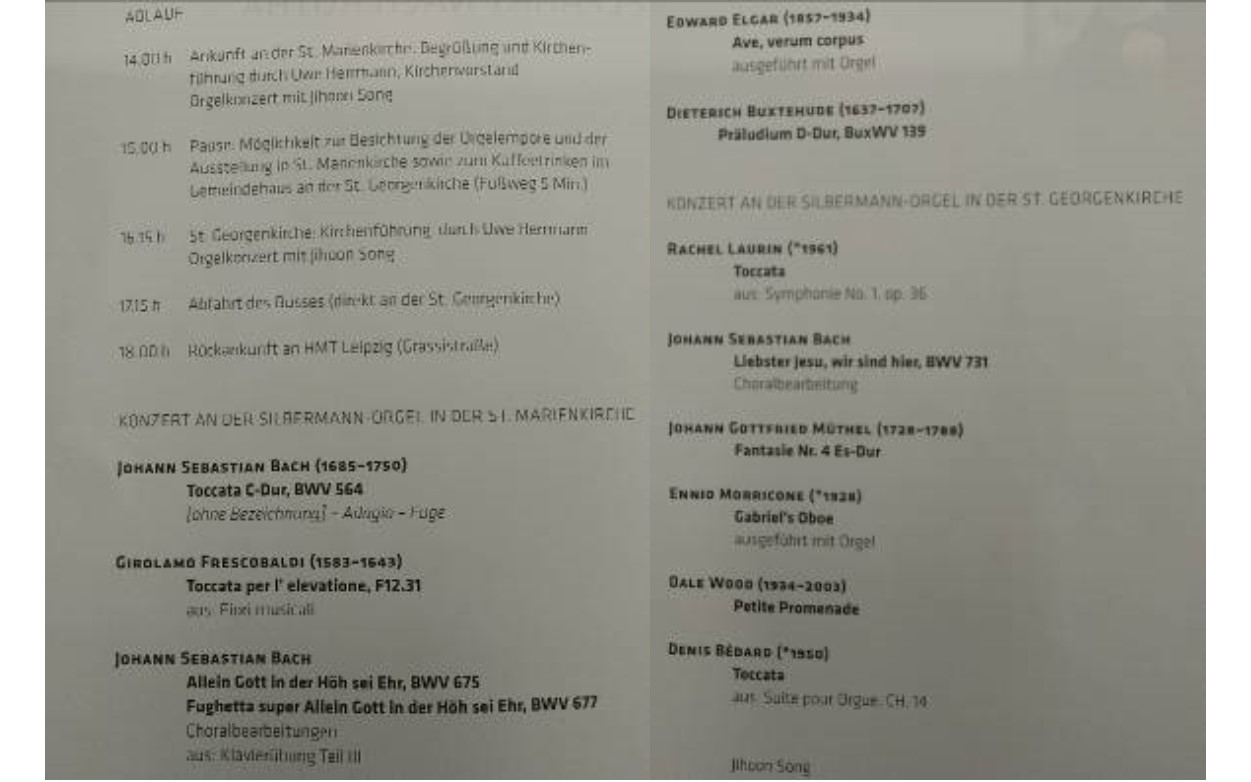 Programm für den Ausflug nach Rötha zu den Silbermann-Orgeln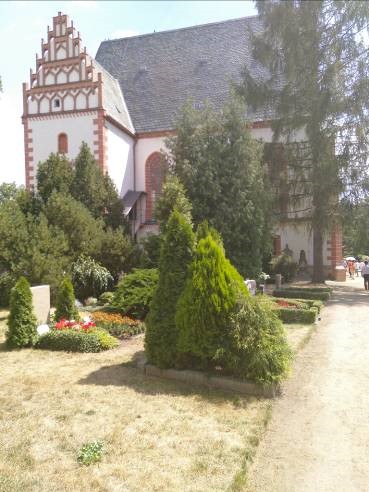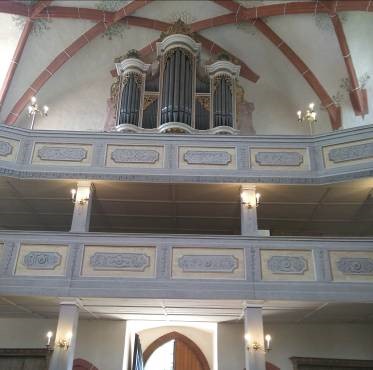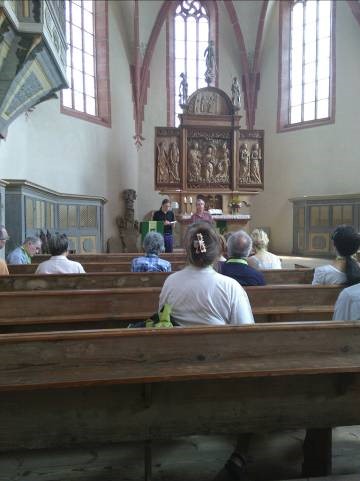 St. Marienkirche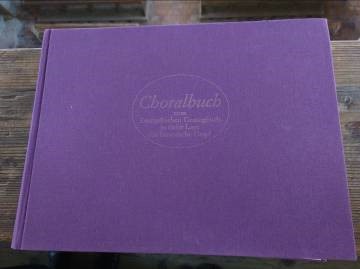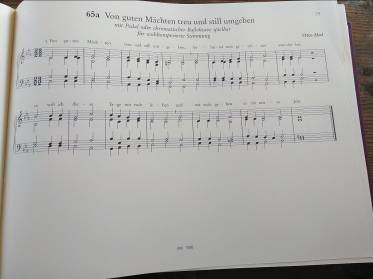 Choralbuch aus der St. Marienkirche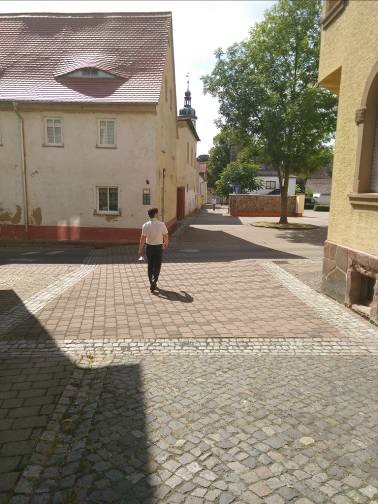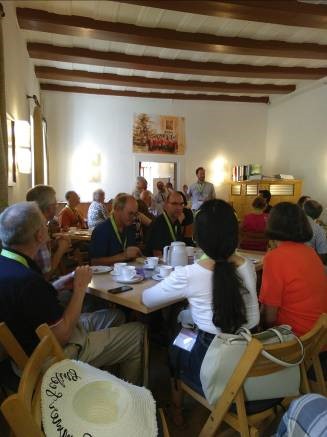 Weg zum Gemeindehaus zum Intermezzo "Kaffeepause"
St. Georgenkirche
Die gesamte IAML-Tagung in der Musikstadt Leipzig, deren Leitmotiv nicht zuletzt die von Tag zu Tag scheinbar ansteigende hochsommerliche Hitze war, fand ihren konzertanten Abschluss am 26. Juli in der nach Jahrzehnten wiederaufgebauten Pauliner-Kirche mit dem Konzert zur katholischen Orgelmusik. Bei der wunderschönen Musik konnte man die intensiven und vollen Klänge genießen und dabei auch die Zeit nutzen, die vielen Eindrücke der vergangenen Tage Revue passieren zu lassen. Die Sommerhitze der letzten Tage schien an diesem Abend in der festlich modernen und klimatisierten Paulinerkirche an einem regelrecht abzuperlen… Viele Grüße von einer gebürtigen Leipzigerin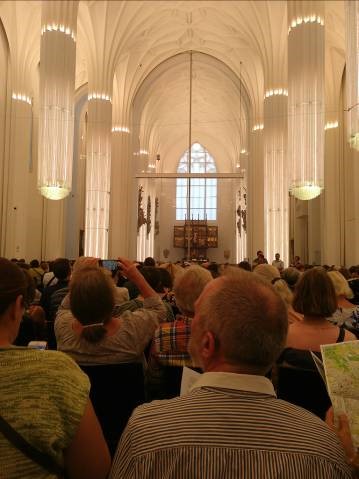 Paulinerlirche