Music performance during opening session in the Auditorium Maximum Main Hall
Conference themes
As every year, the conference program featured a multitude of topics and professional issues. In my case, public libraries, advocacy and digital scholarship emerged as three central themes. This resulted partly from the sessions I attended, but also from my involvement in two committees and the paper I presented this year.
Public Libraries
Although I work at a national library, a lot of my tasks and projects can be categorized as public library work. This also inspired my paper "Practices and challenges of providing access to music instruments and recording equipment in public libraries: results of an international survey" which I presented in the public libraries session along with an interesting presentation by Marianna Zsoldos from Hungary about the use of music and rhythm video games in her library. Below is a full (re-)recording of my presentation:
Curious to find out more about the work of the Public Libraries Section, I attended their business meeting. There were only a handful of colleagues in the room which confirmed a general observation at IAML Congresses: Among its participants, colleagues from public libraries are a minority. There are many more attendees from university libraries, music conservatoires and other types of institutions. This shortage and the difficulties of public librarians to make it to the annual meetings due to a lack of funding were discussed during the section meeting. Some colleagues were also alarmed by losing staff and space in their music departments due to lack of understanding by their employers. All of this showed a clear need for more advocacy efforts (more on this below). On a more positive note, I was able to get more involved with the section as an elected officer of the group: The current secretary had to step down recently, so I was happy to volunteer for the position. I look forward to working with the group on tackling some of the mentioned issues and on developing an attractive conference program for next year.
Advocacy
Not only public music librarians can benefit from advocacy efforts, also colleagues in other library types are facing issues that need to be addressed. One example that came up during the Hot Topics Session was the the loss of music librarian positions in universities across different countries as a result of restructuring their organizational matrix. Another area of interest mentioned during the congress is the wording of job descriptions for music library positions. They need to be carefully composed including key competencies such as knowledge in music history or reading music notation. Otherwise, libraries might end up with unqualified candidates which, in certain scenarios, have to be hired because of obligations towards a workers union as explained by one colleague. IAML Congresses make for an ideal opportunity to learn about these and other experiences from the international community and to get a sense for the most pressing issues.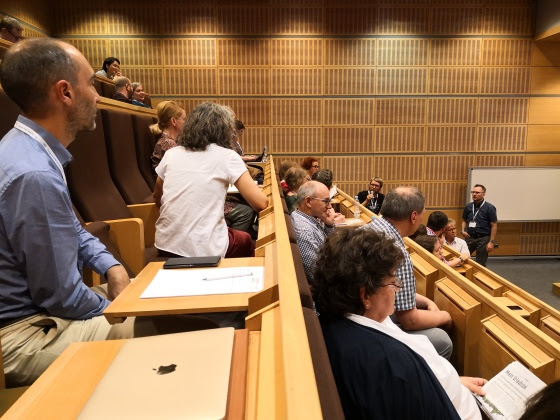 Lively discussion during Hot Topics Session
Within IAML, it is the Advocacy Committee that is responsible for the advocacy efforts of the association. During the congress week, the group met twice to discuss ongoing projects and brainstorm new ideas. The second meeting was held in conjunction with the committees on Outreach and Membership. Recent activities of the group include an application submitted to UNESCO for the establishment of an International Day of Music Libraries and Archives. Several committee members have been drafting position statements during the year focusing on the work of music librarians in academic libraries, public libraries, orchestra and broadcasting libraries and other types of institutions. In addition, a number of topic related statements (copyright, AV media) have been discussed. Once the statements are finalized, they will be made available through the IAML website and can be used as advocacy tools by IAML members. Apart from the statements, one of my main areas of work will be facilitating a series of four twitter chats that will take place until the IAML Congress 2020 next summer. The first two chats will look into 1. experiences of advocating for staff and space and 2. the IFLA 10-Minute Library Advocate series. The committee also discussed implications of the IAML Strategic Intentions 2019-2021 on the work of the group. Possible new projects that came up during the meetings include guidance for job descriptions and competencies and developing ways of promoting success stories.
Digital scholarship
While digital scholarship in music does not play any role in my day-to-day work, I was absolutely fascinated to learn about the latest initiatives in this field, mainly through presentations in the sessions New digital resources and tools for early 20th-century musicology: Digital Delius and beyond, Digital scholarship and the #digitalIAML workshops. Here is a selection of projects that were discussed (in the order of their appearance in the conference program):
All those examples illustrate how much music research can benefit from digital tools, as they enable us to both present and analyze music related data in new and exciting ways.
Cultural program
Across the street from the conference venue, IAML participants could visit the exhibition "From theoretical treaties to musical masterpieces - Musical collections in the Jagiellonian Library through the ages". Organized on the occasion of the IAML Congress, it presented manuscripts and other items related to Polish music history and, at the same time, provided insights into the chronology of acquisition and growth of the library's collection. Below are pictures of some of the autographs on display which included works from Chopin, Lutoslawski, Paderewski and Bach.
One great side benefit of IAML conferences is that apart from evening receptions the program also includes several concerts over the course of the week. The organizing committee in Krakow put together a great series of concerts that featured a wide variety of music. Three very different, but equally stunning churches located in the Old Town built the perfect stage for each of the performances (as shown in the pictures below). We could listen to piano quintets by Schubert and Nowakowski in the Basilica of St. Francis of Assisi, organ music from the 16th to the 18th century in St. Anne's Collegiate Church and string orchestra repertoire from the 19th and 20th century in St. Catherine's Church.
For their Wednesday excursion, participants could choose between two walking tours through Krakow, a visit to Rynek Underground and trips to the Wieliczka Salt Mine or to Pieskowa Skała Castle. The Musical Krakow Walking Tour was the ideal chance during a packed conference week to explore Old Town Krakow and the Wawel Castle. Along the way, our guide introduced us to many of the more than 120 churches located in the citywhich is also called "Northern Rome" or the "second Rome" for this very reason. The musical part consisted of an organ recital in one of the churches and a number of musical anecdotes, such as the story behind the St. Mary's trumpet call.
Walking tour through Old Town Krakow - St. Mary's Basilica
Overall, I really enjoyed this conference. There was a good balance between paper presentations and work meetings which let me take away useful impulses for my workplace, but also follow up on committee work. It was great to see some new additions to the program such as live-streaming of the plenary sessions and the introduction of the unconference format through #digitalIAML, both of which are worth further exploring in upcoming meetings. We had excellent catering this year which was fully included in the conference fee. Having all attendees in one central place for lunch and coffee breaksmade networking and catching up with colleagues very easy. The concerts were another highlight of the conference week. I love the fact that IAML attendees can share their passion for music not only through discussing professional issues during the conference sessions, but also by experiencing live music performances as a group. I would not want to miss this part at any IAML Congress. Many thanks again to the organizers this year for doing a great job!