Statement by John H. Roberts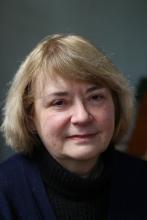 Catherine Massip. Photo by Denis Massip
IAML and IMS have a long history of cooperation and collaboration. They have shared leaders, co-sponsored major projects, most notably the four great Répertoires, and in recent years held joint conferences, such as the vital and informative gathering this week in New York. Now for the first time, our two organizations, each from its own perspective, have elected the same person as their latest Honorary Member. It should come as no surprise to anyone that this is Catherine Massip, who has long exemplified the ideals cherished by both IAML and IMS.
After distinguishing herself as a student at the Paris Conservatoire, she took a degree in paleography at the École des chartes in 1973. That year she began her professional career as a curator in the Department of Manuscripts of the Bibliothèque nationale, transferring in 1976 to the Music Department. From 1988 until her retirement in 2012 she was director of that department. During her long and illustrious tenure she enriched the library's already prodigious holdings with many important acquisitions, including the extraordinary Berlioz collection amassed by Richard Macnutt, and did much to make the music collections of the Bibliothèque nationale de France better known to scholars and performers through the publication of library catalogues, exhibit catalogues, and specialized studies. While remaining a strong believer in the traditional disciplines of source study, she welcomed the new technology and helped promote improved access through online catalogues and digitization.
As a scholar, Catherine Massip has been no less accomplished and influential. Her primary area of research was already defined by her thesis at the École des chartes, later published as La Vie des musiciens de Paris au temps de Mazarin (1976). She brilliantly pursued her work in this field in her doctoral thesis for the Sorbonne on Michel Lambert (1985), her book on Lambert (1999) and another book on Michel-Richard Delalande (2005). But her scholarly interests have ranged widely over the history of French music, extending to Berlioz, Jolivet, Messaien, and many others. As Director of Studies in Musicology at the École pratique des hautes études she has also been a mentor to younger scholars, and she has rendered invaluable assistance to countless scholars using the collections of the BnF (myself among them).
Catherine Massip has been a leader in our two associations and in the world of music at large. She was president of IAML (1989-92) and Vice-President of the IMS (2007-12), President of the Commission mixte of RILM (1998-2004) and Vice-President of RISM (1995- 2013). From 2006 to 2009 she served as President of the Société Française de Musicologie. Her faith in the primacy of music in our endeavors was amply reflected in her role as a guiding spirit of Les Arts Florissants from its inception till the present day. Most recently she was instrumental in organizing a series of three conferences at Royaumont, dealing with the phenomenon of collecting music, the proceedings of which has been lavishly published by Brepols. To all these activities Catherine has brought extraordinary energy and imagination, always full of fresh ideas, always ready to put them into action.
In 2008 Catherine Massip was named a corresponding member of the American Musicological Society. It has taken IAML and IMS a little time to catch up, but fittingly they have finally done so with unprecedented unanimity, emphasizing the breadth of her many contributions to music as she continues to inspire us all with her dedication, wisdom, and vision.
John H. Roberts