Welcome to your IAML workspace. The purpose of this workspace is to provide a system for interactive online communication between congresses. Content on workspaces is only visible to workspace members.
Workspaces are open to all IAML members, including representatives of institutions. Participants can create wiki pages, add comments, and upload files in order to plan the activities of a section, committee, study group, or project group.
For all IAML members
Membership
Membership of workspaces for Sections, Study Groups, or Project Groups: Any IAML member is allowed to join the workspaces of a Section, Study Group, or Project Group and participate in the discussions.
Membership of workspaces for Committees: Membership in the workspaces of Committees is initially limited to officers and members as listed on the Committee page but may be opened up to other IAML members at the officers' discretion.
Features of workspaces
Joining workspaces
To join: IAML members who wish to join the workspace of a Section, Study Group, or Project Group may do so by going to the group's page on the IAML website and clicking on the link on the left that says "Join workspace." The workspace chair must approve your request. IAML members who wish to join the workspace of a Committee must be added by the Committee Chair; please contact the Chair directly.
Leaving workspaces
To leave: To leave a workspace, click on the link on the left that says "Leave workspace."
Using workspaces
Wiki pages: Discussion takes place on wiki pages. To create a new wiki page, look for the block "Create content" on the left and click "Wiki page."
Give each page a title and enter your text. You can also upload files as attachments.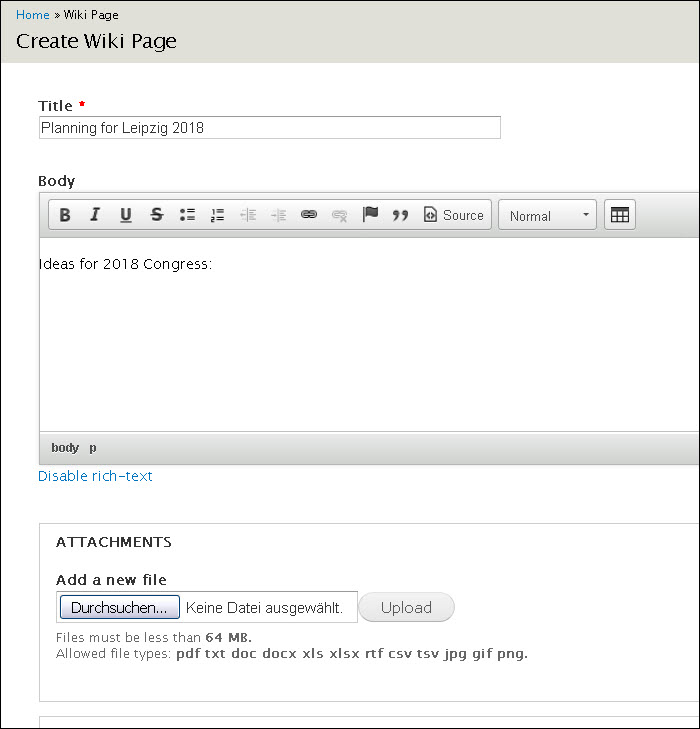 Click "Save" and the page is saved.
Comments: Workspace members contribute to the discussion by adding comments.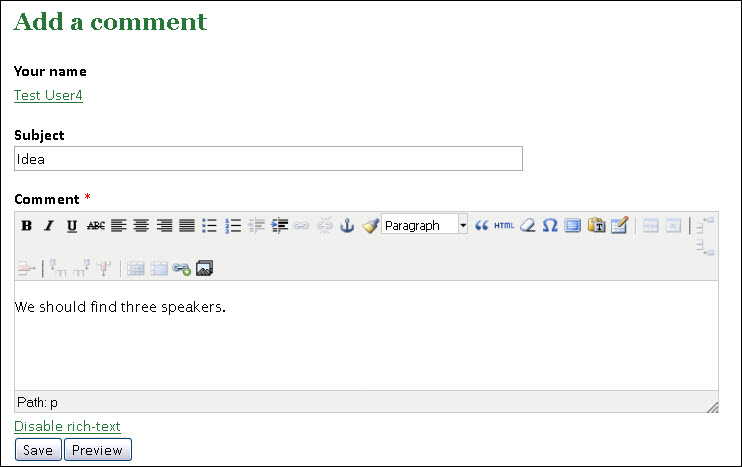 Recent activity: The most recently updated pages are listed on the left under "Latest workspace activity."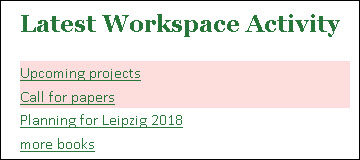 Sticky pages: The pink pages above are "sticky pages." This means that the page appears at the top of lists. When you are editing a wiki page, under the "Publishing options" tab there is a checkbox called "Sticky at the top of lists" that enables sticky pages.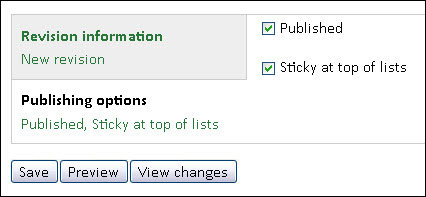 All pages: To see all pages, click "All workspace activity." You can sort these columns by title and date posted.
Freelinking: Another way to add wiki pages inside a wiki page is simply to type the name of the new page in double brackets: [ [ My New Page ] ]. This will then appear as a link on the page which will (1) link to that page if it exists or (2) take the editor to the form to create the new page if it does not exist.
For officers (chairs, vice-chairs, secretaries)
Managing workspace members
When IAML members click on "Join workspace" (for sections, study groups, or project groups), an email is automatically sent to the chair. Committee chairs must add members manually.
Adding or removing members is found under the "Group" tab at the top of your page.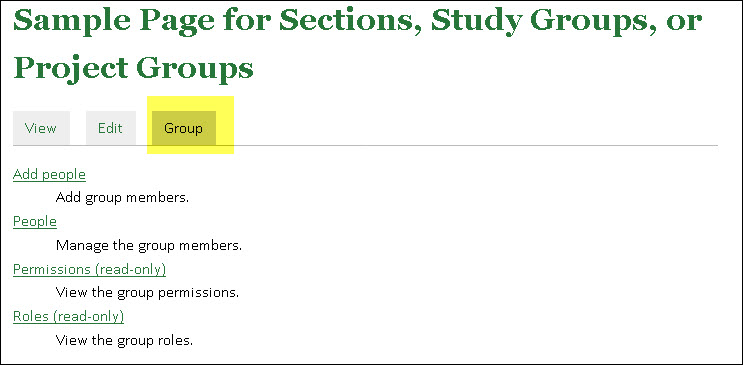 Add people: You can add IAML members to your workspace.
People: You will see all the people in your workspace. Links to remove people are visible. People who have requested access are listed as "Pending." If you click "Edit" next to a person's name, you can change status from "Pending" to "Active" or "Blocked." Remember to click "Update membership" to save.
Page rights

Officers may add members, edit someone else's content, and delete users or content.
Deleting pages: Officers can delete wiki pages. Go to the edit mode of the wiki page and the delete button is at the bottom.
Editing pages for public view
Officers of sections, project groups, or study groups can edit their pages and add information about their section or group, such as terms of reference, names of officers, or descriptions of activities. This information is visible to everyone on the internet. Simply click the Edit tab and the edit mode opens.
The module is a WYSIWYG editor; if you aren't familiar with web editing, tutorials such as this one are available.
When you add or remove officers to your group discussion, remember to edit the names on your page so it is visible to the public. Editing the names of the officers is done through the tab Officers - DEPRECATED, which is found in the block of tabs near the bottom of the page: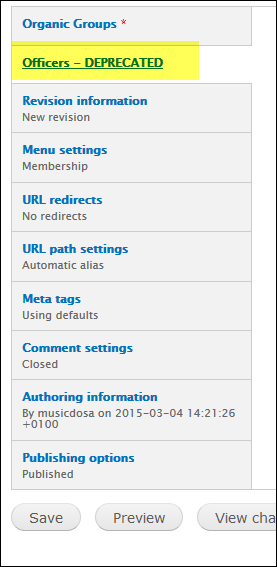 Materials under "Activites" are added by the Web Editor.
You can add new public pages if you want to divide your content into separate pages (such as to have a separate page dedicated to a specific project). When you are viewing a page, on the left you will see a link to create a new page: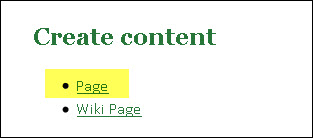 Please note that adding new public pages is not yet fully developed, but it works. If you add a new page, please notify webeditor@iaml.info so that the new page can be placed within the website's structure correctly.