I had the pleasure to visit three libraries with impressive music collections in Munich at the beginning of December 2017: the Bayerische Staatsbibliothek, the Hochschule für Musik und Theater, and the Münchner Stadtbibliothek. This was possible thanks to financial support from Bibliothek & Information International (BI-International), which is the standing committee of Bibliothek & Information Deutschland – the Federal Association of German Library and Information Associations – "for the promotion of international professional exchange". Grants are available for professional visits, group study excursions and attendance at congresses. I warmly recommend interested colleagues to take advantage of this opportunity for further training.
I have already published my report on the visit to the Bayerische Staatsbibliothek. This second report deals with my visit to the Münchner Stadtbibliothek. Since I will be lucky enough to spend a whole week at the Hochschule für Musik und Theater at the end of April, I decided that I would rather share my impressions from that visit with you in the late spring.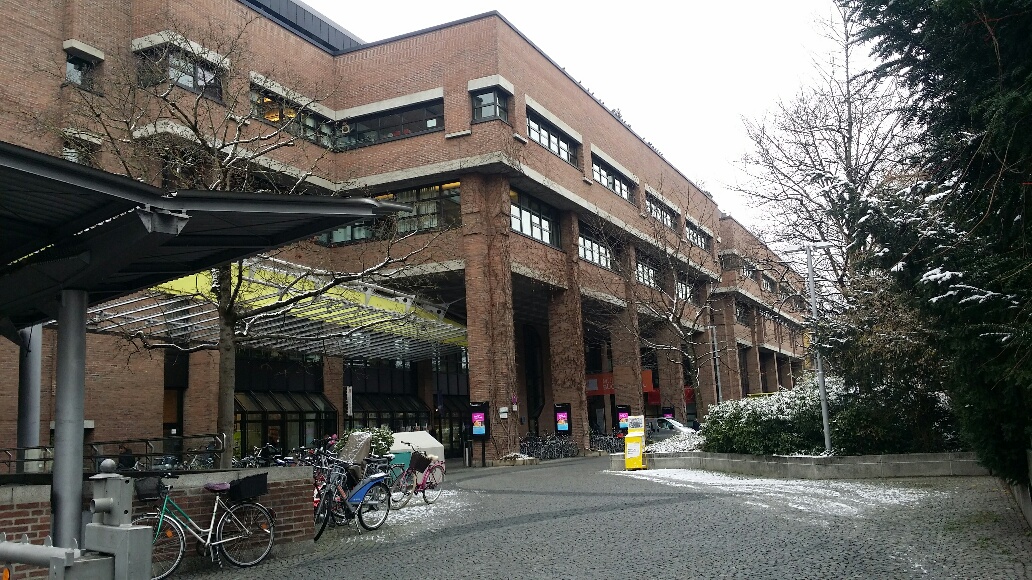 The Münchner Stadtbibliothek am Gasteig (the Munich City Library), founded in the middle of the 19th century, is the largest public library in Germany with around 1.5 million media items used by more than 3,000 people each day. The Central library moved to the cultural centre "Gasteig" in 1984. The centre has also housed the renowned Munich Philharmonic Orchestra since 1985. My guide during the visit was the Head Librarian, Bettina Wolff, who kindly gave me an introduction and a guided tour.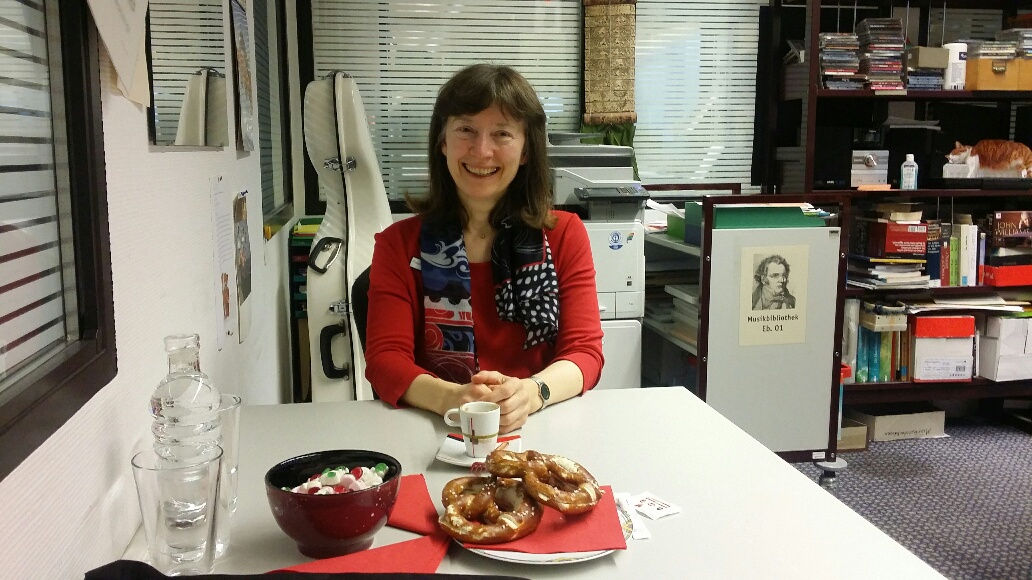 The Musik Bibliothek, which is part of the Central Library, has a long and interesting history. It started as a private initiative by the music critic Paul Marsop and opened in 1905. The idea was to offer a music library open to everybody to raise the educational level among the general public — a "Musikalischen Volksbibliothek". It consisted of donations of books and printed music. From the year 1925 professional staff were employed and the service also reached out to musicologists and musicians. During the Second World War the library suffered a 10% loss of books and printed music as well as 1,500 records and 2 grand pianos to Allied bombing. In 1936 employees from the library rescued Entartete Musik — the so-called degenerate music that otherwise would have been destroyed by the Nazis.
The move to Am Gasteig in 1984 led to a considerable increase in usage. The neighbouring Richard-Strauss-Konservatorium (now part of the Hochschule für Musik und Theater), the Philharmonie and the Münchner Volkshochschule bring many visits from students, teachers, musicians, concert attendees etc. The new location made it possible to display some of the material on open shelves, but unfortunately two thirds of the books and three quarters of the printed music are still in closed storage due to lack of space. The catalogue was computerized in 1995 and was made available online in 2003.
Thanks to its founder there is a comprehensive archive including local music history. There are also several special archives, for example a Volksliedarchiv, a guitar archive and an archive with material of composers and musicians from Munich. The library has received many valuable donations and owns autographs by Johannes Brahms, Richard Strauss, Hans Pfitzner, Max Reger and others.
The library continues to promote local music events in different ways. The many pillars in the library are used for posters and a notice board enables anybody to post announcements about instruments for sale, offering piano lessons, searching a counter-tenor etc. The library is often visited by groups of schoolchildren and arranges regular "Carl Orff days" when they can borrow Orff instruments and play together. Carl Orff founded the Günther Schule in Munich and his pedagogy ("the Orff-Schulwerk") is still in demand.
Today the Münchner Stadtbibliothek is the largest public music library in Germany with 250,000 media items – 120,000 music scores, 50,000 CDs, many DVDs (mainly operas) and more. The collections include all sorts of music to satisfy the needs of a large and diverse population and requests for purchases are welcome. A card costs 20 Euro a year for adults and 10 Euro for children, young adults (up to 18 years of age) and senior citizens.
The library offered users a special soundproof room with playback equipment and a collection of records as early as 1937. Loans of audiocassettes started in 1978, videos in 1986, CDs in 1987 and DVDs in 2000. In 2002 an advanced AV-studio was made available with surround sound, a large screen, a projector etc. for up to fifty people. There are now also several AV-booths. The two digital pianos are also much sought after. Bettina Wolff showed me some interesting lending statistics for CDs called "Tops and flops". All top ten were categorized RockPop or Kabarett. The flops consisted only of classical music… I felt so sorry for these CDs that had never been borrowed. Whatever is wrong with Carl Maria von Weber's Silvana? The CD was bought in 1998, but has never been played. I promised myself to promote the opera at every possible occasion!
My visit took place on 1 December, so the approach of Christmas was noticeable. The library even offered nicely packaged Christmas presents to be borrowed with books on music, scores, CDs etc. I wonder how many people waited until Christmas day to unpack them and maybe as a result received fines.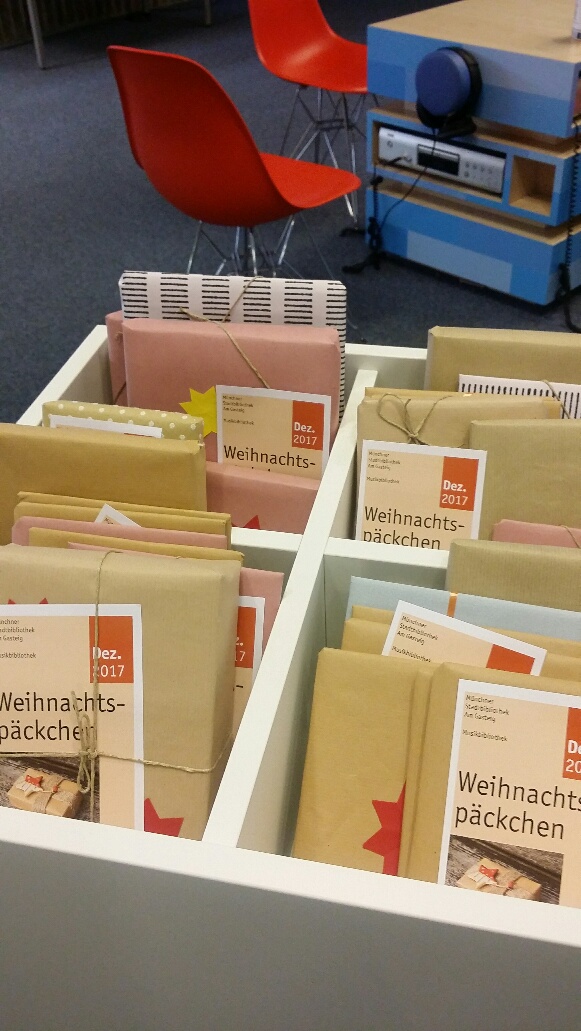 After a very nice study visit I strolled around the jolly Christmas markets in the old parts of Munich. The following day I seized the opportunity to make a day-trip to Salzburg where I enjoyed other Christmas markets after invigorating myself with hot chocolate with rum and a Mozart Kugel at the Fürst Konditorei. And yes, I did visit the Mozart-Wohnhaus before my return to Munich in the evening.