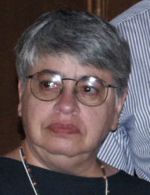 When the Board met in March 2001 it discussed in what ways it might choose to mark IAML's 50th anniversary. One of these was to appoint honorary members, which had not been done for quite a long time.
There are those whose service to the Association has over the years been quite exceptional, and for whom the Association's work has been central in their lives. Their dedication to music libraries, and achievements in their own libraries, has been extraordinary. They have been moving forces in the profession and they are people to whom we know we can turn for advice and wise counsel.
The President mentioned earlier a visit to the opening of a stupendous new music library for its inauguration. It was not merely opened, but truly celebrated with music and with scholarship. Its librarian not only starred at that inauguration, but also was honoured by the creation of an endowment for the library in her name, a very rare tribute. The esteem in which she is held by the faculty there and by her colleagues can only be an inspiration to us all.
Within IAML, throughout her career, she has been continually active. She was a Vice-President for six years, chaired the Cataloguing Commission for six years chaired the Publications Committee, represented IAML in IFLA and ISO affairs, and strove to see an ISMN accepted. She has been president of the US Branch and, still undeterred, is spearheading the work for next year's conference at Berkeley.
Her meticulous scholarly work, most particularly in documenting auction catalogues, makes her name a byword in the field, while her writings on standards in automation are perhaps cited more often than any other work in music librarianship. She has shown unstinting commitment to IAML in the least slavish of ways by never failing to criticise and to provoke thought to bring about positive outcomes. She could be seen as IAML's conscience. This person is Lenore Coral.