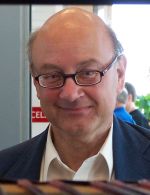 When the Board met in March, it discussed in what ways it might choose to mark IAML's 50th anniversary. One of these was to appoint honorary members, which had not been done for quite a long time.
There are those whose service to the Association has over the years been quite exceptional, and for whom the Association's work has been central in their lives. Their dedication to music libraries, and achievements in their own libraries, has been extraordinary. They have been moving forces in the profession and they are people to whom we know we can turn for advice and wise counsel.
When we talk of service to the Association, there is another person whose commitment has been equally consistent, equally determined, equally provocative and equally essential. He served on the Board of the Association for some fifteen years as Secretary General for nine, and as President and Past President. He chaired the Cataloguing Commission for a while, but for many years was our constitutional expert, not only chairing the Constitution Committee for a considerable number of years, but overall devoting, we think, twenty five years to its activities and deliberations. He was IAML's liaison with the International Standards Organisation for the ISMN, and, like Lenore Coral, did much to ensure its acceptance internationally. He was active on ISBD committees and in various capacities in the R-Projects, most importantly perhaps in RILM, where his work on the multi-lingual thesaurus sub-commission was vital. He continues to serve RISM as a member of its technical committee, where his lifelong experience of library and documentation automation is absolutely invaluable.
In his own country, he is the foremost music librarian, and one of the foremost music cataloguers and bibliographers. He began in a real sense the national music history archive and has been head of the country's principal music library since 1981, for twenty years. He is a member of the Royal Academy of Music in his home country, and has served as its Vice-President. He has been active in the RIdIM and RIPM committees at home, was a leading light in the formation of his national RILM committee and did all that country's RILM work for the first twenty years. He was a central figure in the group which translated AACR2 into his mother language, and it was he who put music on the national cataloguing agenda. He now chairs the national cataloguing committee. Apart from all this, he has been President of his national branch of IAML for longer than anyone can remember, and remains President. The country is, of course, Sweden, and the nominee, is, of course, Anders Lönn.