Mari Itoh (Aichi Shukutoku University), of IAML Japan and the Japanese corresponding editor for Fontes, was recently a visiting researcher at the Hochschule der Medien in Stuttgart and paid a visit to the WDR Notenarchiv in Cologne--the music archive of the West German Broadcasting Corporation. Here is a summary of her brief stay, followed by a summary of the visit in German by Katharina Jerusalem (WDR intern).
A visit to WDR Notenarchiv: Interview with Dr. Jutta Lambrecht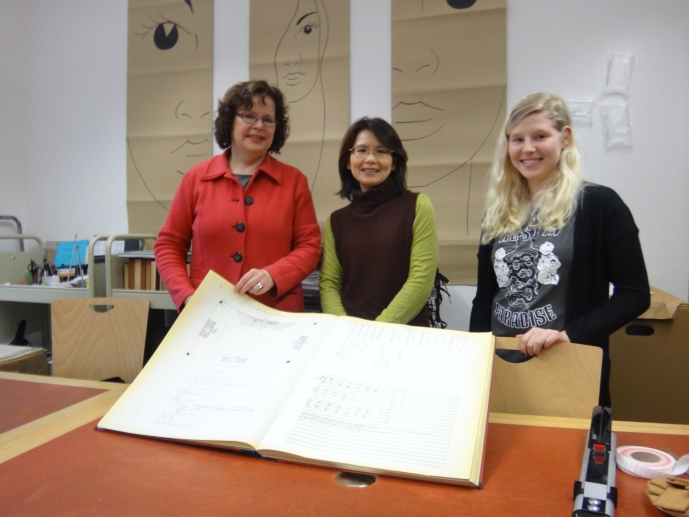 I visited the music library of Westdeutscher Rundfunk (WDR), Cologne on 22 February 2017.  This visit was for one of my research projects, which aimed to examine the professions of various types of music librarians.  I interviewed Dr. Jutta Lambrecht, the director of the WDR Notenarchiv.  Here I summarize the impressions of my visit. 
The WDR is one of oldest broadcasting companies in Germany.  What I was very impressed by was their eagerness to contribute to promoting culture. As one of their contributions, they regularly commission new works by contemporary composers for their orchestra and chorus.  In addition, they are very active in rediscovering older music as well as introducing various genres of music to younger generations who are not willing to go to classical music concerts.  And the library plays a very important role to support all these activities in the organization.  There are almost two kilometers of music scores stored in their stacks.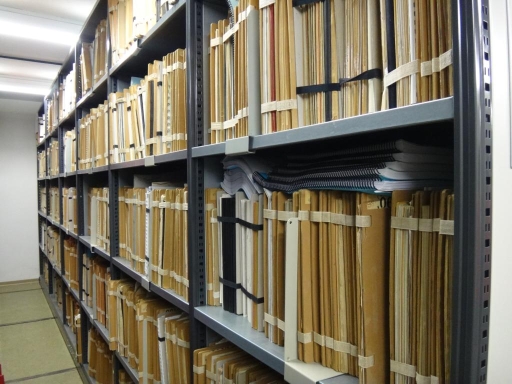 The WDR stacks
Dr. Lambrecht explained the challenges the library has in preparing and maintaining performance materials for different types of performing groups for the organization.  They also provide reference services to users who represent a wide variety of people like concert management directors or radio program producers.  She also pointed out some problems concerning music publishing today.  Her lively talk was very fascinating and has me very much interested in a profession as an orchestra librarian.  Vielen Dank!
Mari Itoh (Aichi Shukutoku University)
Visiting researcher at Hochschule der Medien in Stuttgart
Image, top: Jutta Lambrecht, Mari Itoh, and Katharina Jerusalem at the WDR Notenarchiv holding Bernd Alois Zimmermann's manuscript to his Requiem
East meets West - Besuch aus Japan im WDR-Notenarchiv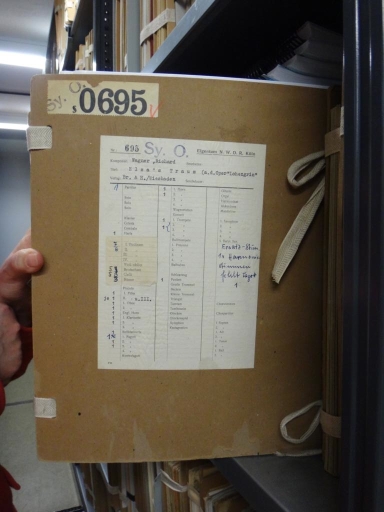 Mari Itoh ist eine Professorin und Musikwissenschaftlerin aus Japan. An der Aichi Shukutoku University unterrichtet sie Bibliothekswissenschaft sowie Informationswissenschaft. Sie ist Mitglied der IAML (International Association of Music Libraries, Archives and Documentation Centres), der auch das WDR-Notenarchiv angehört. Von September 2016 bis März 2017 ist sie an der Hochschule für Medien in Stuttgart als Gastdozentin tätig. Nebenbei besichtigte sie unterschiedliche Musikbibliothekstypen in ganz Deutschland und erhoffte sich, während ihres Besuchs Ideen für ihre Unterrichtsreihe "Introduction of music library services" sammeln zu können. Das WDR-Notenarchiv gehört zu den größten Notenbibliotheken Deutschlands. Deshalb wollte Mari Itoh sich diese Station nicht entgehen lassen und besuchte es am 22. Februar. Nachdem sie die Archivleiterin Dr. Jutta Lambrecht zu ihrer Arbeit interviewt hatte, ging es gemeinsam in den "Keller", in das Herzstück des Notenarchivs, das Magazin.
Hinter einer schweren Tür lagern dort über 156.470 Werke, die von Big-Band-Materialen, über Partituren und Klavierauszügen, bis hin zu kompletten Bühnenwerken fast alle Wünsche der WDR-Produzenten und –Programmmacher bedienen. Beim Betreten der Magazinräume konnte man spüren, dass Mari Itoh von der Menge an Notenpapier beeindruckt war. Jutta Lambrecht erzählte, was sich so alles im Archiv finden lässt: ca. zwei Kilometer Noten, wenn man den gesamten Bestand aneinanderreihen würde, unterteilt in 19 Signaturgruppen. Zu jeder Signaturgruppe, die sich auf Besetzung und Ausführung des Notenmaterials bezieht, lässt sich einiges erklären. Bei der Signatur BM (Big Band-Material) machte sich Mari Itoh besonders viele Stichpunkte. Diese unterscheiden sich deutlich von zum Beispiel sinfonischen Materialen, da das Papier im Querformat beschrieben wird und das Notenbild bewusst handschriftlich wirkt. Vor der Erfindung des Fotokopierers haben Kopisten jede einzelne Note für jede einzelne Stimme per Hand aufs Papier geschrieben, nicht nur für Unterhaltungsmusik. Ca. 30.000 Arrangements im Bereich der leichten Musik wurden speziell für den WDR und dessen Klangkörper angefertigt.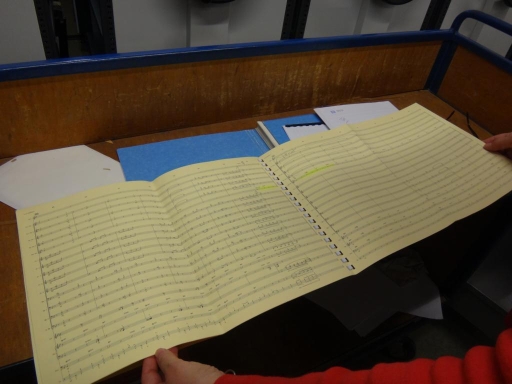 A big band score in the archives
Dann ging es zu den "Was", den Werkausgaben. Von diesen wissenschaftlichen Gesamtausgaben einzelner Komponisten hat das Notenarchiv des WDR etwa 250 im Bestand und somit mehr als viele der großen Universitätsbibliotheken, was Mari Itoh begeisterte. Weiter erzählte Jutta Lambrecht, dass das Archiv im 2. Weltkrieg zerstört wurde und daher nach dem Krieg viele Noten von Antiquariaten nachgekauft werden mussten. Dementsprechend alt und historisch wertvoll sind manche Bände.
Zum Schluss wurden Mari Itoh dann die aktuelle Notendatenbank PIANOfORTE und der ehemalige Zettelkatalog näher gebracht. Jutta Lambrecht gab als Suchbeispiel einfach mal den japanischen Komponisten Nobuo Uematsu in die Suchleiste ein und erzielte mehrere Treffer im Bestand, wie beispielsweise das Ending Theme des Computerspiels Final Fantasy X, das vor kurzer Zeit noch vom Funkhausorchester aufgeführt wurde. Schon fast die Hälfte des Bestandes ist mittlerweile in PIANOfORTE erfasst und kann online recherchiert werden, der Rest im eingescannten Katalog. Dies lobte Mari Itoh, auf Grund der Menge an Werken im Magazin, als besonders vorteilhaft. Während ihres gesamten Aufenthalts hatte sie immer wieder ihre kleine Kamera gezückt und bevor sie den WDR wieder in Richtung Bahnhof verließ, wurden noch einige fröhliche Abschiedsbilder geschossen.
Katharina Jerusalem, FSJKlerin im WDR Notenarchiv